LA's Woodland Hills studio 'goes commercial'
Producer and engineer Scott Frankfurt has opened his Woodland Hills studio to the public.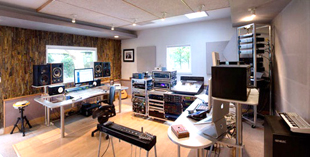 Twenty minutes from Hollywood, the studio offers a relaxed environment along with a technically versatile recording set-up. A custom Pro Tools HD-based recording system offers a hybrid analogue and digital system provides the speed and control of digital recording with the old-school tone control of analogue mixing and outboard.
The studio was designed by Greg Thompson and built by Ron Balmer and Frank LaTouf, who constructed Westlake Recording Studios and the Record Plant. The finished rooms were acoustically tuned by George Augsperger.
The large control room has multiple monitor choices and a standard patchbay with a variety of classic and cool analogue outboard. The isolation room affords a singer, a guitarist, or a drummer plenty of room to make music while avoiding outside noise and interruptions.
'I'm passionate about music and the art of producing it,' Frankfurt says. 'We work with clients from cutting-edge Indie bands to some of the biggest names in the business. We're all about offering creative support to recording artists. My wife, Sharon, and I are here to make the experience memorable and relaxed, while making sure the musical outcome is extraordinary.'
'I recently had the pleasure of spending a week overdubbing at Scott Frankfurt Studio,' says David Hentschel, who counts George Harrison, Genesis, Elton John, Missy Elliot and LL Cool J among his credits. 'As you would expect from someone of Scott's reputation and professionalism, the studio is immaculate both technically and sonically. It is one of the most well-equipped and comfortable working environments that I have ever worked in – I can't wait to work there again.'
Frankfurt also acts as a producer on projects in his studio, and Grammy- and Oscar-winning singer Christopher Cross chose him for his Walking In Avalon release. 'Scott's talents and skills range from composition, programming, and engineering to playing, producing, and creating a wonderful vibe in his state-of-the-art room. I have had the privilege of working over the past 30 years with some of the most gifted people in the industry, and Scott is front and centre in that class photo,' Cross says.
Contact: This e-mail address is being protected from spambots. You need JavaScript enabled to view it
More: http://scottfrankfurtstudio.com
Hock Thang: Symetrix (Asia-Pacific)

Symetrix Technical Sales Engineer Hock Thang has been promoted to the newly-created position of Regional Sales Manager, Asia-Pacific. 'Since 2006, Hock has been an invaluable resource for Symetrix in...

Read More...
1
2
3
4
5
6
7
8
9
10
11
12
13
14
15
16
17
18
19
20
21
22
23
24
25
26
27
28
29
30
31
32
33
34
35
36
37
38
39
40
41
42
43
44
45
46
47
48
49
50
51
52
53
54
55
56
57
58
59
60
61
62
63
64
65
66
67
68
69
70
71
72
73
74
75
76
77
78
79
80
81
82
83
84
85
86
87
88
89
90
91
92
93
94
95
96
97
98
99
100
1
2
3
4
5
6
7
8
9
10
11
12
13
14
15
16
17
18
19
20
21
22
23
24
25
26
27
28
29
30
31
32
33
34
35
36
37
38
39
40
41
42
43
44
45
46
47
48
49
50
51
52
53
54
55
56
57
58
59
60
61
62
63
64
65
66
67
68
69
70
71
72
73
74
75
76
77
78
79
80
81
82
83
84
85
86
87
88
89
90
91
92
93
94
95
96
97
98
99
100