Magnum Sound gets Midas touch with new console
Magnum Sound has taken delivery of a Midas Pro2 package from SSE Sales.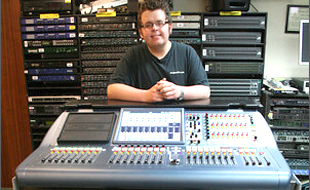 The South Wales-based hire and installation company did their homework before choosing SSE as its preferred supplier: 'After shopping around, SSE Sales was an easy choice,' Magnum Sound's Phillip Hughes reports. 'Not only could SSE offer great back-up, but could provide the package exactly as I wanted it and including all the extras. I've been very happy with the service and I'm looking forward to getting the desk out for its first show.'
Custom line system panels fabricated by SSE provide a passive split from the DL251 rack for connection to the company's other consoles. An SSE output panel and ethercon patch give extra protection for the DL251, keeping it patched at all times. Only the panels need to be regularly re-patched, resulting in less wear-and-tear on the rack itself.
The Pro2 flightcase, built by Sigma Fabrications uses Sigma's custom extrusions and includes a wooden dog box and a routered Pro2 logo on the rear.
'Phil and the team have made a great choice with the Pro2 package,' says SSE Equipment Sales Manager, Alex Penn. 'We've sold several now and have been having great success with them in our own Hire Division. Midas products have always proved a sound investment as they have great build and sound quality. We wish Magnum every success with the new console.'
More: www.sseaudio.com
More: www.magnumpa.com
More: www.midasconsoles.com
Jason Kelly: SSL

Jason Kelly has joined Solid State Logic as Product Manager, to spearhead the introduction of the company's new Live mixing console. With a 25-year career covering live sound production, live event...

Read More...
1
2
3
4
5
6
7
8
9
10
11
12
13
14
15
16
17
18
19
20
21
22
23
24
25
26
27
28
29
30
31
32
33
34
35
36
37
38
39
40
41
42
43
44
45
46
47
48
49
50
51
52
53
54
55
56
57
58
59
60
61
62
63
64
65
66
67
68
69
70
71
72
73
74
75
76
77
78
79
80
81
82
83
84
85
86
87
88
89
90
91
92
93
94
95
96
97
98
99
100
1
2
3
4
5
6
7
8
9
10
11
12
13
14
15
16
17
18
19
20
21
22
23
24
25
26
27
28
29
30
31
32
33
34
35
36
37
38
39
40
41
42
43
44
45
46
47
48
49
50
51
52
53
54
55
56
57
58
59
60
61
62
63
64
65
66
67
68
69
70
71
72
73
74
75
76
77
78
79
80
81
82
83
84
85
86
87
88
89
90
91
92
93
94
95
96
97
98
99
100