Stone Roses make live return with Robbie McGrath
The Stone Roses' recently performed a series of comeback gigs in front of 225,000 fans at Manchester's Heaton Park – the band's first shows for 16 years.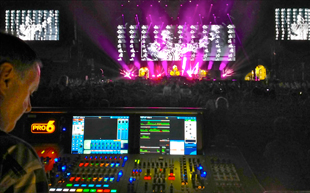 At front of house was Robbie McGrath, whose sound engineering credentials include The Rolling Stones, AC/DC and Kasabian: 'The Pro6 head amps are incredible,' he says. 'I can set up the Pro6 the same way as I would a great analogue console such as the Midas XL4. On top of this you have a very smooth digital trim, which is fab. The EQ is exceptionally musical – it really retains that much-loved Midas sound and the onboard compressors are amazing.'
McGrath finds the Pro6 equally suited to the moving candour of 'I Wanna Be Adored' and the raw Zeppelin-like rock of 'Fools Gold', while holding onto an intimacy that had the audience hanging on every word and singing along like an unruly choir.
'The Stone Roses are incredibly talented,' says McGrath. 'It's drums, bass, guitar and vocals with no trimmings whatsoever. I need a desk that will concentrate on the quality of the raw music – at the end of the day that's what this band are all about.'
With Roses' return having been anticipated with almost religious fervour, there was a lot riding on McGrath and his Pro6: 'Energy is everything, and that's what this desk has in abundance,' he says. 'Compressors are hugely important to me - if you use compressors correctly you can get a mix at 101dB to sound like you're kicking 110dB, or if you're into audio terrorism, 110 that sounds like 115.'
'That's high praise indeed for our compressor plug-ins, coming from someone with Robbie's wealth of experience,' says Midas Brand Development Manager Richard Ferriday. 'The good news for us mere mortals, is that the same Midas compressor plug-ins are included on the Pro2 and the new Pro1 consoles'.
See also:
Live and Dangerous: Tomorrow's Sound Crew (Robbie McGrath)
More: www.midasconsoles.com
Hock Thang: Symetrix (Asia-Pacific)

Symetrix Technical Sales Engineer Hock Thang has been promoted to the newly-created position of Regional Sales Manager, Asia-Pacific. 'Since 2006, Hock has been an invaluable resource for Symetrix in...

Read More...
1
2
3
4
5
6
7
8
9
10
11
12
13
14
15
16
17
18
19
20
21
22
23
24
25
26
27
28
29
30
31
32
33
34
35
36
37
38
39
40
41
42
43
44
45
46
47
48
49
50
51
52
53
54
55
56
57
58
59
60
61
62
63
64
65
66
67
68
69
70
71
72
73
74
75
76
77
78
79
80
81
82
83
84
85
86
87
88
89
90
91
92
93
94
95
96
97
98
99
100
1
2
3
4
5
6
7
8
9
10
11
12
13
14
15
16
17
18
19
20
21
22
23
24
25
26
27
28
29
30
31
32
33
34
35
36
37
38
39
40
41
42
43
44
45
46
47
48
49
50
51
52
53
54
55
56
57
58
59
60
61
62
63
64
65
66
67
68
69
70
71
72
73
74
75
76
77
78
79
80
81
82
83
84
85
86
87
88
89
90
91
92
93
94
95
96
97
98
99
100