Powersoft puts polish on European business
Powersoft has announced two new liaisons with the Polish market.
SoundTrade is to be the power amplifier manufacturer's exclusive distributor for Poland, while a strategic partnership has been struck with the local loudspeaker manufacturer, Pol Audio.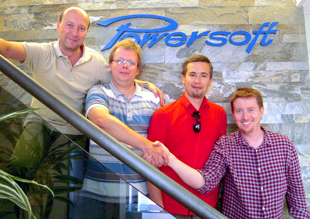 Founded in 2001, SoundTrade has grown to be a major player in the Polish market – at first in the MI sector and more recently expanding into the pro audio market.
'The addition of Powersoft to our portfolio is an important strategic step for us,' says Marcin Pytel, SoundTrade MD. 'We have been distributing Turbosound for several years and feel the time is right to invest in the expansion of our pro audio business unit. Powersoft is a company that is synonymous with innovation, quality and reliability – a message that integrates perfectly with the direction that SoundTrade is taking.'
'I have known SoundTrade for several years and have always been very impressed by their extremely professional approach to sales and marketing,' says Steve Smith, Powersoft Touring Account Manager. 'When looking to enlarge our distribution in Poland, they were the natural choice for me and I am very pleased to have them onboard.'
SoundTrade plans to begin promotion of Powersoft products with a series of hands-on demonstrations: 'We are basing our launch on Powersoft's Refresh Your System campaign,' says SoundTrade founder and CEO, Mirosław Stępiński. 'We want to give our customers the possibility to test drive Powersoft amps with their existing systems, underlining that the performance of their systems can improve significantly just by changing the amps.'
The partnership with Pol Audio, meanwhile, allows Powersoft amplifiers to be bundled with their Pol Audio systems. 'The association with Pol Audio speaker systems is a very promising alliance,' Smith says. 'Pol Audio is known and respected in Poland as a manufacturer of high-quality solutions and, as a result, has achieved an excellent level of market penetration.'
'Powersoft and Pol Audio already have a positive history of collaboration – the pairing of the two brands has proven successful,' says Luca Giorgi, Powersoft Pro Audio Business Unit Manager. 'We look forward to building on this relationship, following in this new direction.'
More: www.soundtrade.pl
More: www.polaudio.pl
More: www.powersoft-audio.com
Hock Thang: Symetrix (Asia-Pacific)

Symetrix Technical Sales Engineer Hock Thang has been promoted to the newly-created position of Regional Sales Manager, Asia-Pacific. 'Since 2006, Hock has been an invaluable resource for Symetrix in...

Read More...
1
2
3
4
5
6
7
8
9
10
11
12
13
14
15
16
17
18
19
20
21
22
23
24
25
26
27
28
29
30
31
32
33
34
35
36
37
38
39
40
41
42
43
44
45
46
47
48
49
50
51
52
53
54
55
56
57
58
59
60
61
62
63
64
65
66
67
68
69
70
71
72
73
74
75
76
77
78
79
80
81
82
83
84
85
86
87
88
89
90
91
92
93
94
95
96
97
98
99
100
1
2
3
4
5
6
7
8
9
10
11
12
13
14
15
16
17
18
19
20
21
22
23
24
25
26
27
28
29
30
31
32
33
34
35
36
37
38
39
40
41
42
43
44
45
46
47
48
49
50
51
52
53
54
55
56
57
58
59
60
61
62
63
64
65
66
67
68
69
70
71
72
73
74
75
76
77
78
79
80
81
82
83
84
85
86
87
88
89
90
91
92
93
94
95
96
97
98
99
100