NEP calls on Wohler for Olympic broadcasting
HHB Communications has supplied OB provider NEP Visions with 26 Wohler AMP1-16-M audio monitoring units (AMU) for use on a number of high-profile sporting events – including the London 2012 Olympics.
After its first use in flyaway systems at Wimbledon to broadcast matches for ESPN in America, the AMP1-16-M AMUs were moved into two triple expander HD OB vehicles to cover the London 2012 Olympics for US broadcaster NBC.
The AMP1-16-M AMUs enable NEP Visions engineers to select, monitor and meter up to 16 channels of embedded audio from either of two 3G/HD/SD-SDI streams. With a stereo analogue output on XLRs, adjustable volume and balance controls, the AMP1-16-M also features level metering and phase on two 2.4-inch backlit LEDs. Configurations can be created, saved and recalled via Ethernet and copied between units via USB.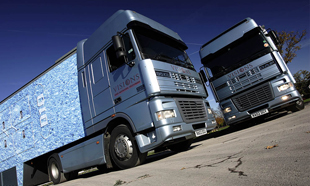 'Operationally, the AMP1-16-M is very easy to use and the SDI inputs help us reduce the cabling that we would normally need for monitoring 16 channels of audio,' says NEP Visions Head of Sound, Paul Fournier. 'We have always found Wohler to make very reliable products and we plan on ordering many more of these units for new trucks that we will build in the future. HHB supplied the monitors quickly and efficiently and were very accommodating along the way. They are my go-to supplier for professional audio products.'
'The AMP1-16-M is perfect for OB environments where embedded multichannel audio is becoming more commonplace,' says HHB Manager for Broadcast & SI Sales, Nikki Kalsi. 'We have developed a strong and enjoyable working relationship with Paul and the NEP team over many years and look forward to continuing that in the future.'
For more than 25 years, NEP Visions has been one of the world's leading OB providers. From serving as a host broadcaster for The Royal Wedding in 2011 to providing HD flyaway systems in Kazakhstan, NEP Visions covers premier events all over the world and specialises in the latest technological solutions coupled with experienced delivery crews and project management. The Visions fleet is equipped with the latest remote and mobile production options and available for use anywhere around the world. The next assignment for the monitoring units is Sky's coverage of the next season's Premier League football.
See also:
Wohler Technologies AMP1-16M embedded audio monitor
More: www.hhb.co.uk
More: www.wohler.com
More: www.visions-ob.com
Hock Thang: Symetrix (Asia-Pacific)

Symetrix Technical Sales Engineer Hock Thang has been promoted to the newly-created position of Regional Sales Manager, Asia-Pacific. 'Since 2006, Hock has been an invaluable resource for Symetrix in...

Read More...
1
2
3
4
5
6
7
8
9
10
11
12
13
14
15
16
17
18
19
20
21
22
23
24
25
26
27
28
29
30
31
32
33
34
35
36
37
38
39
40
41
42
43
44
45
46
47
48
49
50
51
52
53
54
55
56
57
58
59
60
61
62
63
64
65
66
67
68
69
70
71
72
73
74
75
76
77
78
79
80
81
82
83
84
85
86
87
88
89
90
91
92
93
94
95
96
97
98
99
100
1
2
3
4
5
6
7
8
9
10
11
12
13
14
15
16
17
18
19
20
21
22
23
24
25
26
27
28
29
30
31
32
33
34
35
36
37
38
39
40
41
42
43
44
45
46
47
48
49
50
51
52
53
54
55
56
57
58
59
60
61
62
63
64
65
66
67
68
69
70
71
72
73
74
75
76
77
78
79
80
81
82
83
84
85
86
87
88
89
90
91
92
93
94
95
96
97
98
99
100