Breakfast in South America for Roger Hodgson
Continuing his regular 80 show a year in Europe, North and South America and Australasia, Supertramp founding member and Roger Hodgson recently completed the South America leg of his Breakfast in America Tour 2012.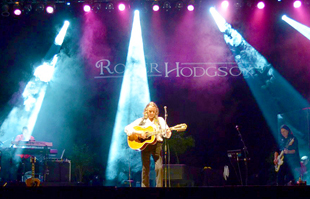 A total of 16 concerts were offered across the continent, and in Rosario, Argentina, where Hodgson played to a full-house at the city's Salón Metropolitano. Local company Marti Audio – with Ariel Marti at the helm – rolled out the big guns for the concert, calling in a DAS Aero Series 2 system for FOH sound.
Running with Hodgson's DiGiCo SD9 at FOH, the comprehensive DAS system included 12 large DAS Aero 50 elements in two arrays of six units each on either side of the stage in a traditional LR configuration. A further 12 LX-218R subs were ground-stacked in two groups of six in front of the stage to reinforce the low end.
To ensure even coverage of the first rows of the audience, eight powered DAS Aero 8A boxes provided front fill.
See also:
Logical choice for Supertramp solo tours (DiGiCo mixing)
More: www.dasaudio.com
Hock Thang: Symetrix (Asia-Pacific)

Symetrix Technical Sales Engineer Hock Thang has been promoted to the newly-created position of Regional Sales Manager, Asia-Pacific. 'Since 2006, Hock has been an invaluable resource for Symetrix in...

Read More...
1
2
3
4
5
6
7
8
9
10
11
12
13
14
15
16
17
18
19
20
21
22
23
24
25
26
27
28
29
30
31
32
33
34
35
36
37
38
39
40
41
42
43
44
45
46
47
48
49
50
51
52
53
54
55
56
57
58
59
60
61
62
63
64
65
66
67
68
69
70
71
72
73
74
75
76
77
78
79
80
81
82
83
84
85
86
87
88
89
90
91
92
93
94
95
96
97
98
99
100
1
2
3
4
5
6
7
8
9
10
11
12
13
14
15
16
17
18
19
20
21
22
23
24
25
26
27
28
29
30
31
32
33
34
35
36
37
38
39
40
41
42
43
44
45
46
47
48
49
50
51
52
53
54
55
56
57
58
59
60
61
62
63
64
65
66
67
68
69
70
71
72
73
74
75
76
77
78
79
80
81
82
83
84
85
86
87
88
89
90
91
92
93
94
95
96
97
98
99
100