Modern worship gets state-of-the-art service
The Living Hope Church's new permanent facility in Tennessee is home to extremely contemporary worship. Ervices call on a full electric band that is regularly supported by strings and other acoustic instruments. Asked to provide a highly flexible system to meet the needs of the growing congregation, Memphis-based designer/integrator Elite Multimedia chose Lake's LM 26 signal processor, owing to the control it offers over equalisation, limiting and delay.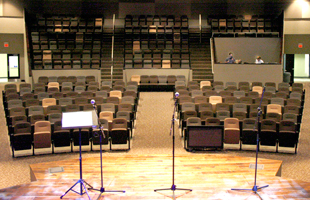 'There's a substantial difference in the quality of this system compared to the one they used when they operated as a portable church,' explains Wade Russell, lead systems integrator at Elite. 'One of the main reasons we selected the Lake LM 26 was the fact that it did 96kHz AES audio.
'We're running AES from a Midas Pro2C console to the LM 26 and the amps, and integrating the Midas and Lake processing was key to creating a very dynamic system that was powerful and had the depth and stereo imaging they were looking for. The variety of customizable filters within the Lake LM 26 definitely helped us achieve that.'
Vindicating the choice, the response from both congregants and other engineers has been overwhelmingly positive: 'When we made the decision to move into a building of our own, we approached everything with our sound system by saying, "let's go ahead and put the best gear in and make a big impact" and Lake was simply the best,' says Living Hope Audio Technician, Tim Johnson. 'Not only does it provide a great signal path, but with the built in filtering we were able to get the sound image we were looking for so wherever people sit they have the same experience. People who don't know a lot about audio know that they love what they hear, and people who do can't get over the how crystal clear the sound is. You're hearing true, clean signal at 96k and the detail of every instrument. Literally, you feel like you're up on stage with the musicians.'
Johnson and Living Hope pastor David Lewis come from mega church backgrounds, and both wanted to bring the same level of sound quality to this smaller venue. 'But in actuality,' Johnson adds, 'with the Lake LM 26, this far surpasses the quality we had in those larger churches.'
There is one potential problem, however: 'After we listened to the system, David said, 'I don't know if this is a good thing or a bad thing. My band is really going to have to practice hard because if we don't sound good, we certainly can't blame it on the system.''
Elite Multimedia is a faith based A/V firm specialising in the provision of audio, video and lighting solutions for a wide range of house of worship, concert and special event applications throughout the Southeast US
More: http://lake.labgruppen.com/
More: www.midasconsoles.com
More: www.elitemultimedia.com
More: www.lhchurch.com
Pat McConnell, Ed Capp: Sound Devices

Sound Devices has announce two internal promotions: Pat McConnell as VP of Sales and Ed Capp as Global Sales Director. In their new roles, McConnell and Capp will oversee the Sound Devices sales team,...

Read More...
1
2
3
4
5
6
7
8
9
10
11
12
13
14
15
16
17
18
19
20
21
22
23
24
25
26
27
28
29
30
31
32
33
34
35
36
37
38
39
40
41
42
43
44
45
46
47
48
49
50
51
52
53
54
55
56
57
58
59
60
61
62
63
64
65
66
67
68
69
70
71
72
73
74
75
76
77
78
79
80
81
82
83
84
85
86
87
88
89
90
91
92
93
94
95
96
97
98
99
100
1
2
3
4
5
6
7
8
9
10
11
12
13
14
15
16
17
18
19
20
21
22
23
24
25
26
27
28
29
30
31
32
33
34
35
36
37
38
39
40
41
42
43
44
45
46
47
48
49
50
51
52
53
54
55
56
57
58
59
60
61
62
63
64
65
66
67
68
69
70
71
72
73
74
75
76
77
78
79
80
81
82
83
84
85
86
87
88
89
90
91
92
93
94
95
96
97
98
99
100