Genting resorts to Nexo for sound system upgrade
Pulling more than 20m visitors annually to the highlands of Malaysia, Resorts World Genting recently commissioned a new Nexo Geo-T line array installation for its Arena of Stars amphitheatre, replacing its original Nexo sound reinforcement system from 2000.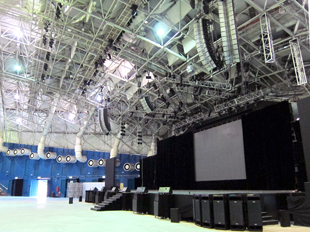 Its primary entertainment centre, the 45,000-sq-ft. Arena of Stars amphitheatre is a 5300-seat venue that has staged in excess of 1,300 concerts since opening 12 years ago. Among the international performers to have appeared here are Sir Elton John, Sir Cliff Richard, Kenny G, Black Eye Peas, Vienna Boys Choir from Austria, Kitaro, Jacky Cheung, Andy Lau, Aaron Kwok, Sam Hui and Sammi Cheng.
When it was first opened in 2000 as one of the first venues of its kind in the region, the amphitheatre was equipped with a Nexo Alpha system. Last July, it again called on Nexo to meet its sound requirements. The project was undertaken by Nexo's Malaysia Distributor, Audio Solutions, which supplied and installed the system, with testing and commissioning handled by Scott Mason and Stuart Kerrison from Nexo.
'To ensure that our solutions met the objectives of the venue's management, we used Nexo's NS-1 simulation and configuration tool,' says Rico Yong, sales engineer at Audio Solutions. 'This enabled us to configure our speaker systems for optimal performance offering uniform SPL coverage. Arena of Stars is a large venue; the software provided us with the correct configurations to ensure exceptional coverage with minimized sound reflection and even coverage.'
This time round, the speaker system consists mainly of the Nexo Geo-T boxes, as they have an extremely high-output and, because of their size, they are light and easy to rig. The 5° Hyperboloid Reflective Wavesource in the Geo-T4805 is optimised so that multiple Geo loudspeakers coherently radiate tangent wavefronts, allowing the curved vertical arrays to deliver consistent front-to-rear SPL across all coverage areas.
A flown center cluster comprises four Geo T4805 5° array modules with two Geo-T2815 15-inch array modules controlled by Nexo's NX242-ES4 processor.
The flown LR cluster consists of ten Geo-T4805 boxes with two Geo -2815 that controlled by a NX242-ES4 processor. The LR side fills use 12 Geo-T4805 units and two Geo-T2815 boxes, and are controlled by a NX242-ES4 processor. Front fill consists of existing Nexo PS15s and the Camco DX24 power amplifier that were upgraded with Nexo's NX242-ES4 processor.
Subwoofers placed at ground level under the main cluster are configured as left and right, with 12 18-inch RaySub 18PTs controlled by a NX242-ES4 processor. The RaySubs provide high sound pressure level output and offer long-throw even coverage. All audio is managed by an XTA DP 448 system.
An existing Midas Heritage 4000 is used for FOH mixing with a new Yamaha PM5D purchased for monitoring and supported by a Nexo NX-Y16ES 16-channel Ethersound digital interface. The management and control of the Ethersound network is via an Auvitran AVE-Es monitor system.
More: www.rwgenting.com
More: www.audiosolutions.com.my
Jason Kelly: SSL

Jason Kelly has joined Solid State Logic as Product Manager, to spearhead the introduction of the company's new Live mixing console. With a 25-year career covering live sound production, live event...

Read More...
1
2
3
4
5
6
7
8
9
10
11
12
13
14
15
16
17
18
19
20
21
22
23
24
25
26
27
28
29
30
31
32
33
34
35
36
37
38
39
40
41
42
43
44
45
46
47
48
49
50
51
52
53
54
55
56
57
58
59
60
61
62
63
64
65
66
67
68
69
70
71
72
73
74
75
76
77
78
79
80
81
82
83
84
85
86
87
88
89
90
91
92
93
94
95
96
97
98
99
100
1
2
3
4
5
6
7
8
9
10
11
12
13
14
15
16
17
18
19
20
21
22
23
24
25
26
27
28
29
30
31
32
33
34
35
36
37
38
39
40
41
42
43
44
45
46
47
48
49
50
51
52
53
54
55
56
57
58
59
60
61
62
63
64
65
66
67
68
69
70
71
72
73
74
75
76
77
78
79
80
81
82
83
84
85
86
87
88
89
90
91
92
93
94
95
96
97
98
99
100