HHB takes on DiGiCo for UK and Ireland
DiGiCo has named HHB Communications as its Broadcast Dealer in the UK and Ireland.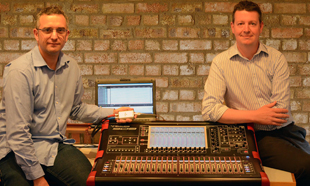 DiGiCo's introduction of a broadcast specific feature set for its range of digital consoles has extended the reach of its console architecture and software to broadcasters. As a supplier of professional broadcast audio equipment to the UK's biggest broadcasters and systems integrators for more than 36 years, HHB is well placed to provide the technology required to meet the demands of the professional broadcast audio market. The company's appointment as DiGiCo's Broadcast Dealer will serve to strengthen this reputation and supplement its portfolio of digital broadcast mixers.
'HHB is a highly-respected company in the professional broadcast audio market and a trusted source of expertise who will properly represent our range of consoles to the UK's biggest broadcasters,' says DiGiCo MD, James Gordon. 'We are very much looking forward to showing their clients how flexible and feature packed our consoles are.'
'DiGiCo's consoles offer an innovative and intuitive user interface and an analogue feel that translates very well to the engineers working in radio and TV,' HHB Director of Sales Martin O'Donnell replies. 'They are also extremely well built and offer a multitude of features at a price point that their competitors will find hard to match. We are very excited to be representing such a respected brand.'
HHB now has DiGiCo SD11 and SD9 consoles available for demo sessions in its North West London office. More information and demos are available from Martin O'Donnell.
Marsh Gooch: Aphex

Aphex has recruited Marsh Gooch to serve as its Marketing Manager, overseeing all of the company's marketing efforts. Gooch joins the company after successful positions with Loud Technologies, Tascam...

Read More...
1
2
3
4
5
6
7
8
9
10
11
12
13
14
15
16
17
18
19
20
21
22
23
24
25
26
27
28
29
30
31
32
33
34
35
36
37
38
39
40
41
42
43
44
45
46
47
48
49
50
51
52
53
54
55
56
57
58
59
60
61
62
63
64
65
66
67
68
69
70
71
72
73
74
75
76
77
78
79
80
81
82
83
84
85
86
87
88
89
90
91
92
93
94
95
96
97
98
99
100
1
2
3
4
5
6
7
8
9
10
11
12
13
14
15
16
17
18
19
20
21
22
23
24
25
26
27
28
29
30
31
32
33
34
35
36
37
38
39
40
41
42
43
44
45
46
47
48
49
50
51
52
53
54
55
56
57
58
59
60
61
62
63
64
65
66
67
68
69
70
71
72
73
74
75
76
77
78
79
80
81
82
83
84
85
86
87
88
89
90
91
92
93
94
95
96
97
98
99
100