Stage monitoring on Cue for Arc Sound
London production and audio rental company ARC Sound has taken delivery of Coda Audio stage monitors to serve its wide variety of event work.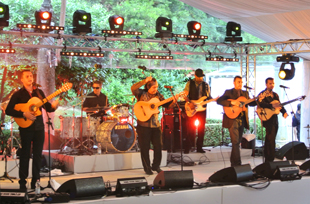 Comprising 20 Cue Two and Cue Four monitors, this is the first Coda equipment to be included in the ARC Sound inventory. Managing Director James Dougill was introduced to Coda products by UK Technical Sales Manager, Gareth Jones: 'I have known James for many years and I know that he is a real stickler for quality and attention to detail,' he says. 'I was sure that he would appreciate both the features and performance of the Cue-Series monitors.'
The Cue Two is a three-way wedge with a triaxial transducer incorporating a 15-inch woofer and 1.4-inch concentrically-mounted coaxial compression driver on a 60º x 90º elliptical waveguide. The Cue Four is a three-way unit, employing two 8-inch neodymium woofers and 1.4-inch coaxial compression driver with an asymmetrical 60º x 50º+45º elliptical waveguide. Both units can be run in biamped or passive modes.
'Having demoed several products, we were convinced that the Cue Series was the right choice for the work we undertake,' Dougill says. 'In our primary market, the aesthetics and appearance of a product are every bit as important to our customers as the sound quality is to us. They tick all the right boxes and have been exceptionally well received by guest engineers who have used them.'
One of the first events that ARC Sound used the Cue monitors on was orchestra pit monitoring for Andy Mitchell and the Big Funk Corporation, where 22 Cue monitors delivered 16 mixes. 'The high stability and directivity of the monitors allowed us to create individually tailored mixes in a very condensed playing space, where we were using around 54 open microphones,' says Dougill.
More: www.arcsound.co.uk
More: www.codaaudio.com
Hock Thang: Symetrix (Asia-Pacific)

Symetrix Technical Sales Engineer Hock Thang has been promoted to the newly-created position of Regional Sales Manager, Asia-Pacific. 'Since 2006, Hock has been an invaluable resource for Symetrix in...

Read More...
1
2
3
4
5
6
7
8
9
10
11
12
13
14
15
16
17
18
19
20
21
22
23
24
25
26
27
28
29
30
31
32
33
34
35
36
37
38
39
40
41
42
43
44
45
46
47
48
49
50
51
52
53
54
55
56
57
58
59
60
61
62
63
64
65
66
67
68
69
70
71
72
73
74
75
76
77
78
79
80
81
82
83
84
85
86
87
88
89
90
91
92
93
94
95
96
97
98
99
100
1
2
3
4
5
6
7
8
9
10
11
12
13
14
15
16
17
18
19
20
21
22
23
24
25
26
27
28
29
30
31
32
33
34
35
36
37
38
39
40
41
42
43
44
45
46
47
48
49
50
51
52
53
54
55
56
57
58
59
60
61
62
63
64
65
66
67
68
69
70
71
72
73
74
75
76
77
78
79
80
81
82
83
84
85
86
87
88
89
90
91
92
93
94
95
96
97
98
99
100