Restored restaurant sounds out escape from Hong Kong
A traditional fishing village on the west coast of Lantau Island, Tai O offers a surprising escape from the intensity of Hong Kong. Recently, the Tai O Heritage Hotel restored the village's 100-year old police station, 'adding modern amenities without overwhelming the building's aesthetic'. Among these is Tai O Lookout, a restaurant with a view from the top of the building and a discrete sound system.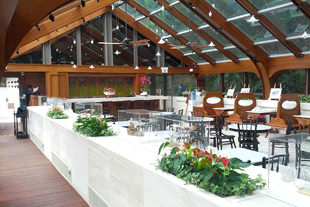 Observing the Tai O Heritage atmosphere, Hong Kong-based A/V design company Sound Classy Holding gave the restaurant a high-fidelity system based on the Symetrix Jupiter 8 signal processor, Symetrix ARC-2e user interface, and a Fulcrum Acoustics loudspeaker system.
The system is designed to offer intuitive operation to restaurant staff, but also to be capable of implementing FIR filtering for the Fulcrum Acoustics Prophile series 'P' loudspeakers – which Sound Classy had specified for their ability to blend into the architecture of the space.
A few wireless microphones join a CD player and an iPod docking station at the input side of the Symetrix Jupiter 8. Australian Monitor XA Series amplifiers power the distributed loudspeaker system across four separate zones, each with independent volume control.
The Jupiter series processors use a 'app' design topology – just as a Smartphone can become any number of divergent tools, the Jupiter can turn into any number of divergent signal processors. Users simply upload an app for a particular sound-processing situation, and the Jupiter configures itself appropriately. Sound Classy specified the Sound Reinforcement 10 app, which has all the necessary routing logic and signal processing (including FIR filters) for Tai O Lookout. The addition of a simple Symetrix ARC-2e wall panel remote allows restaurant staff to select the input and to adjust volumes within the different zones.
'No other processor is so easy to set up, so great sounding, and so affordable as the Symetrix Jupiter,' says Him Chan, system designer at Sound Classy. 'Not only was it simple to find and install the correct app, it was easy to dial in the correct settings on the FIR filters. The hotel owners and the restaurant staff are very happy with the sound and its operation.'
Sound Classy works directly with Sanecore Audio, Symetrix' distributor in Hong Kong.
More: www.soundclassy.com.hk
More: www.symetrix.co
Hock Thang: Symetrix (Asia-Pacific)

Symetrix Technical Sales Engineer Hock Thang has been promoted to the newly-created position of Regional Sales Manager, Asia-Pacific. 'Since 2006, Hock has been an invaluable resource for Symetrix in...

Read More...
1
2
3
4
5
6
7
8
9
10
11
12
13
14
15
16
17
18
19
20
21
22
23
24
25
26
27
28
29
30
31
32
33
34
35
36
37
38
39
40
41
42
43
44
45
46
47
48
49
50
51
52
53
54
55
56
57
58
59
60
61
62
63
64
65
66
67
68
69
70
71
72
73
74
75
76
77
78
79
80
81
82
83
84
85
86
87
88
89
90
91
92
93
94
95
96
97
98
99
100
1
2
3
4
5
6
7
8
9
10
11
12
13
14
15
16
17
18
19
20
21
22
23
24
25
26
27
28
29
30
31
32
33
34
35
36
37
38
39
40
41
42
43
44
45
46
47
48
49
50
51
52
53
54
55
56
57
58
59
60
61
62
63
64
65
66
67
68
69
70
71
72
73
74
75
76
77
78
79
80
81
82
83
84
85
86
87
88
89
90
91
92
93
94
95
96
97
98
99
100