New Dubai rental company goes for Shure
New Dubai-based rental operation Glow Productions has purchased A number of Shure UHF-R wireless microphones, together with the PSM1000 personal monitoring system from local distributor, NMK.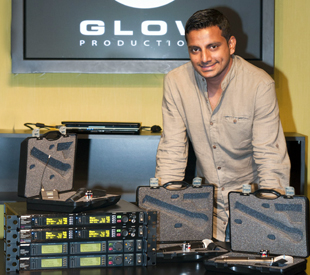 The deal includes four channels of UHF-R series wireless mics with the latest UR4D+ version of the receiver (which adds a cascade feature), UR1M micro-bodypack transmitter, and UR2/KSM9 handheld transmitter with KSM9 mic capsule.
The UHF-R series is the most powerful and flexible wireless system to date from Shure, aimed at large-scale touring and installation applications. Its features and flexibility are able to support up to 108 wireless systems. The PSM 1000 is a full-rack, dual-channel, networkable transmitter, also suited to professional touring and installation.
'Although a new rental firm in the market, Glow Productions has already produced a number of top level shows for both corporate and private entities,' says Shajahan KK, NMK Shure Product Manager. 'As most of the work requires high levels of production, the company has procured top-of-the line equipment to support its jobs. The purchase in the UHF-R series and the new PSM1000 is testament to its aim to deliver.'
More: www.nmkelectronics.com
Hock Thang: Symetrix (Asia-Pacific)

Symetrix Technical Sales Engineer Hock Thang has been promoted to the newly-created position of Regional Sales Manager, Asia-Pacific. 'Since 2006, Hock has been an invaluable resource for Symetrix in...

Read More...
1
2
3
4
5
6
7
8
9
10
11
12
13
14
15
16
17
18
19
20
21
22
23
24
25
26
27
28
29
30
31
32
33
34
35
36
37
38
39
40
41
42
43
44
45
46
47
48
49
50
51
52
53
54
55
56
57
58
59
60
61
62
63
64
65
66
67
68
69
70
71
72
73
74
75
76
77
78
79
80
81
82
83
84
85
86
87
88
89
90
91
92
93
94
95
96
97
98
99
100
1
2
3
4
5
6
7
8
9
10
11
12
13
14
15
16
17
18
19
20
21
22
23
24
25
26
27
28
29
30
31
32
33
34
35
36
37
38
39
40
41
42
43
44
45
46
47
48
49
50
51
52
53
54
55
56
57
58
59
60
61
62
63
64
65
66
67
68
69
70
71
72
73
74
75
76
77
78
79
80
81
82
83
84
85
86
87
88
89
90
91
92
93
94
95
96
97
98
99
100