Adelaide's Three D Radio adds Lawo system
Australian broadcast specialist Professional Audio Technology has commissioned a Lawo on-air broadcasting system for Adelaide's Three D Radio.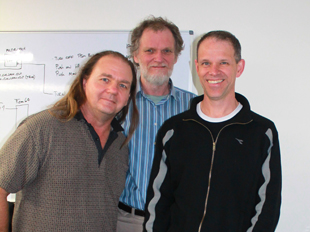 Three D Radio is run by the Progressive Music Broadcasting Association Inc. (PMBA), which is committed to playing contemporary, progressive and alternative music. There are no playlists or rotations – each of the stations 120-plus announcers is able to choose the music that they present.
Moving into new purpose-built premises provided the opportunity to upgrade its on-air technology in line with the new studios. Chaired by the independent technologist Glen Donhardt, the technical committee of Three D Radio, assessed various broadcast technologies supported in Australia. The decision to go with Lawo's crystal technology was based on functionality, support and Three D's budget.
The Three D technical committee recommended 12-fader crystal consoles in the two main On-Air Studios and a crystal frame in the MCR. 'Three D Radio is in the fortunate position to have some very technically savvy people on their technical committee, who were able to utilise the technical flexibility that Lawo equipment offers to its full potential,' says PAT Technology Specialist, Alan Liddelow.
During a three day commissioning and training session at PAT's training facility in Hornsby NSW, Mark Farley, David Corkill and Ian Moore from Three D Radio undertook in-depth customer training before the system was dispatched to Adelaide. 'We have used our move as an opportunity to future-proof our station as far as practically possible,' Three D Radio's Robert Ayliffe explains. 'The Lawo equipment was chosen after a lot of research as being the most suited to meet our needs now and into the future.'
Targetting smaller and community broadcasters, Lawo's entry-level consoles provide technical flexibility and sophisticated operating possibilities, in addition to German build quality. 'As the Lawo user community is rapidly expanding in Australia, I am delighted to see that Australian broadcasters embrace this outstanding German technology and take full advantage of its capabilities,' adds MD of Professional Audio Technology, Patrick Salloch. 'I am sure that Three D Radio will set new technology standards for community broadcasters in South Australia and we are looking forward to working with Three D for years to come.'
Broadcasting since 1979 as a community radio station across the Adelaide and its surrounding areas, the station puts up to 87 diverse programmes to air each week. Three D Radio is planning to be on air with the new system by September 2012.
More: www.proaudiotechnology.com.au
More: www.lawo.de
Hock Thang: Symetrix (Asia-Pacific)

Symetrix Technical Sales Engineer Hock Thang has been promoted to the newly-created position of Regional Sales Manager, Asia-Pacific. 'Since 2006, Hock has been an invaluable resource for Symetrix in...

Read More...
1
2
3
4
5
6
7
8
9
10
11
12
13
14
15
16
17
18
19
20
21
22
23
24
25
26
27
28
29
30
31
32
33
34
35
36
37
38
39
40
41
42
43
44
45
46
47
48
49
50
51
52
53
54
55
56
57
58
59
60
61
62
63
64
65
66
67
68
69
70
71
72
73
74
75
76
77
78
79
80
81
82
83
84
85
86
87
88
89
90
91
92
93
94
95
96
97
98
99
100
1
2
3
4
5
6
7
8
9
10
11
12
13
14
15
16
17
18
19
20
21
22
23
24
25
26
27
28
29
30
31
32
33
34
35
36
37
38
39
40
41
42
43
44
45
46
47
48
49
50
51
52
53
54
55
56
57
58
59
60
61
62
63
64
65
66
67
68
69
70
71
72
73
74
75
76
77
78
79
80
81
82
83
84
85
86
87
88
89
90
91
92
93
94
95
96
97
98
99
100