Stage Electrics named UK dealer for EM Acoustics
EM Acoustics has appointed Stage Electrics as a UK dealer.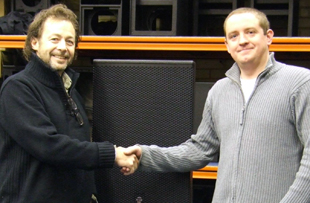 The agreement between the two companies allows the British loudspeaker manufacturer to reinforce its presence in the UK market, while Stage Electrics adds a premium loudspeaker line to its portfolio of high-end audio brands.
'We listened to a whole range of speakers and we were continually drawn back to the EM Acoustics products,' says Stage Electrics' Business Development Manager for Audio, James Gosney. 'The energy and philosophy of this independent manufacturer sits very well with our aims. We strive to deliver well designed and high quality audio and the EM range just sounds superb.'
'Stage Electrics is probably the leading supplier to the entertainment industry in the UK, and so the market exposure that this affords us is huge,' offers EM Acoustics Operations Director, Mike Wheeler. 'As Jamie [Gosney] says, I think that we are an ideal fit for one another – Stage Electrics is very strong in the installed sound and theatre markets, which is where we do a lot of our business, and I know that we have the quality and range of products to meet, and indeed exceed, all of their clients' expectations.'
'We have had a really positive reaction from all the customers to whom we have shown the EM Acoustics products,' says Director of Sales, Anna Western. 'The range of speakers is both versatile and well thought out. For further details, please don't hesitate to contact us to book a demo in your own venue.'
More: www.stage-electrics.co.uk
More: www.emacoustics.co.uk
Hock Thang: Symetrix (Asia-Pacific)

Symetrix Technical Sales Engineer Hock Thang has been promoted to the newly-created position of Regional Sales Manager, Asia-Pacific. 'Since 2006, Hock has been an invaluable resource for Symetrix in...

Read More...
1
2
3
4
5
6
7
8
9
10
11
12
13
14
15
16
17
18
19
20
21
22
23
24
25
26
27
28
29
30
31
32
33
34
35
36
37
38
39
40
41
42
43
44
45
46
47
48
49
50
51
52
53
54
55
56
57
58
59
60
61
62
63
64
65
66
67
68
69
70
71
72
73
74
75
76
77
78
79
80
81
82
83
84
85
86
87
88
89
90
91
92
93
94
95
96
97
98
99
100
1
2
3
4
5
6
7
8
9
10
11
12
13
14
15
16
17
18
19
20
21
22
23
24
25
26
27
28
29
30
31
32
33
34
35
36
37
38
39
40
41
42
43
44
45
46
47
48
49
50
51
52
53
54
55
56
57
58
59
60
61
62
63
64
65
66
67
68
69
70
71
72
73
74
75
76
77
78
79
80
81
82
83
84
85
86
87
88
89
90
91
92
93
94
95
96
97
98
99
100