API sources new distribution for UK
API has named Source Distribution as distributor for its full range of analogue recording consoles and outboard equipment in the UK and Ireland.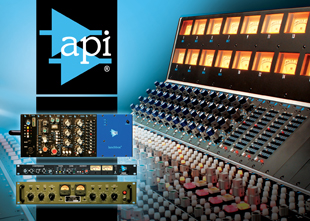 Effective immediately, Source will supply all API products to the market, including the 500 series Lunchbox modules, the range of 19-inch rack mounting outboard products and the large-format 1608 mixing console.
With more than 700 desks in use globally, the latest addition to API's console portfolio is the 1608 Recording Console – a 16-channel 8-bus mixer (expandable to 48 channels) that has found favour in commercial, private and educational facilities around the world. Among them are the personal studios of Ethan Johns, KT Tunstall, Maroon 5 and Dave Grohl of Foo Fighters – Grohl's 1608 was used to record the band's Grammy-winning album, Wasting Light.
The heart of API's range of outboard products is the 500 series of interchangeable modules, including the 512c mic preamp, 525 compressor and 550 EQ, while the 200 series modules offer a more compact format for applications where space is a premium. API's outboard range comprises the 3124 mic preamp and 5500 EQ alongside newer offerings including the 2500 bus compressor and A2D mic pre with digital outputs. Finally, the JDK series of rack-mount mic preamps, EQs and compressors offers end-users a super-affordable route in to API technology: designed and built in API's Maryland factory, JDK products boast API's traditional sonic purity and durability – but for those with tighter budgets.
'Anyone monitoring the UK pro audio market over the past few years couldn't have failed to notice Source's impressive rise to prominence and their utter professionalism in sales, marketing and technical support,' says API Director of Sales, Dan Zimbelman. 'API isn't a company to change distribution partners often. We think long and hard before making any changes, but it became clear that there was only one distribution team that was going to be able to take our brand forward to the next level. We're delighted to be working with Source and feel sure it's the beginning of a long and fruitful relationship.'
'API products tick every box for us as a distributor – they have a fantastic brand with a long history of innovation and integrity, they produce beautiful sounding and totally reliable products, and they are thoroughly decent people to do business with,' says Source MD, Ian Jones. 'We've always regarded API as the kings of discrete analogue audio, and their range not only gives us the chance to promote large format consoles such as the 1608 – an obvious gap in our current portfolio – but also gives us a great range of discrete analogue outboard processors to get our teeth into. We're thrilled to be representing API and are really looking forward to adding such a well-respected name to our portfolio.'
See also:
Foos use API desk for all-analogue Light album
Wrenn House Studios adds API 1608
API counts ten 1608 desks in Argentine studios
Marsh Gooch: Aphex

Aphex has recruited Marsh Gooch to serve as its Marketing Manager, overseeing all of the company's marketing efforts. Gooch joins the company after successful positions with Loud Technologies, Tascam...

Read More...
1
2
3
4
5
6
7
8
9
10
11
12
13
14
15
16
17
18
19
20
21
22
23
24
25
26
27
28
29
30
31
32
33
34
35
36
37
38
39
40
41
42
43
44
45
46
47
48
49
50
51
52
53
54
55
56
57
58
59
60
61
62
63
64
65
66
67
68
69
70
71
72
73
74
75
76
77
78
79
80
81
82
83
84
85
86
87
88
89
90
91
92
93
94
95
96
97
98
99
100
1
2
3
4
5
6
7
8
9
10
11
12
13
14
15
16
17
18
19
20
21
22
23
24
25
26
27
28
29
30
31
32
33
34
35
36
37
38
39
40
41
42
43
44
45
46
47
48
49
50
51
52
53
54
55
56
57
58
59
60
61
62
63
64
65
66
67
68
69
70
71
72
73
74
75
76
77
78
79
80
81
82
83
84
85
86
87
88
89
90
91
92
93
94
95
96
97
98
99
100