Middle East casino adds to Midas Pro6 count
One of the Middle East's premier casinos, Jounieh's Casino du Liban, has taken a further two Midas Pro6 live audio systems. The installation was undertaken by Dubai-based NMK Electronics, and brings the venue's Pro6 count to three.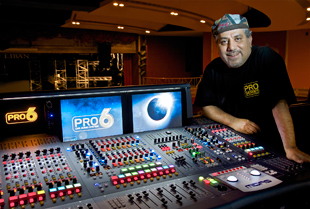 The casino tok its first Pro6 in 2009 for its 1,800-capacity theatre space. 'I chose the Pro6 then because I couldn't find the right warmth of sound in any other digital desk,' says Chief Sound Engineer, Tony Khoury. 'The Midas preamps in the Pro6 provide really effective power and quality. I also found the Pro6 so easy to use; you can get to any zone really fast – it feels like I am working on one of the Midas analogue consoles, like a Heritage 3000.'
When the time came to upgrade the sound system in the casino's 600-capacity La Salle Des Ambassadeurs dining and entertainment space, Khoury felt that there was only one choice…
La Salle Des Ambassadeurs now boasts two Pro6 systems – one FOH and one on monitors. A DL431 mic splitter has been added to the monitor system while both monitor and FOH consoles have DSP engines, DL252 digital snakes and a DL451 modular I/O box with both analogue and digital cards. 'Having had the Pro6 in the theatre for three years, I insisted on Midas again,' says Khoury. 'I am very satisfied with the Pro6 and I am happy to be the only sound engineer in Lebanon to have three in one place.'
Khoury – who has been with the casino since 1996 – has now mixed hundreds of shows on his first Pro6, from live bands to musicals and dance performances to stand up comedy, a variety which has showcased the system's flexibility. 'I've used almost all the effects and dynamics, I like the channel inputs and the EQ is very precise and sensitive,' he says. 'The choice of four compressors on each input channel provides nice gain reduction and the gate is also very helpful where there are many instruments miked up. I also like the Klark Teknik graphic EQ and delay effects.'
'I had a great time working together with Tony on the recent upgrade of the Salle des Ambassadors at the casino,' adds NMK Business Development Manager, Chicco Hiranandani. 'It is always enjoyable working with individuals who share the same kind of intensity or passion for what they do. I am sure that patrons of the casino will experience a spectacular show or event with the new equipment at the venue.'
Midas brand development manager Richard Ferriday adds: 'We are delighted that Casino Du Liban are continuing their investment in Midas, and our new competitive pricing now makes that even easier. Another important consideration is that the Pro6 is a modular, upgradable system, which means that the casino has the option to upgrade to full 88 input Pro9 capacity if their requirements increase in the future.'
See also:
Midas Pro2 raises Middle East profile
Midas gets BIG in Oman
More: www.nmkelectronics.com
More: www.midasconsoles.com
Jason Kelly: SSL

Jason Kelly has joined Solid State Logic as Product Manager, to spearhead the introduction of the company's new Live mixing console. With a 25-year career covering live sound production, live event...

Read More...
1
2
3
4
5
6
7
8
9
10
11
12
13
14
15
16
17
18
19
20
21
22
23
24
25
26
27
28
29
30
31
32
33
34
35
36
37
38
39
40
41
42
43
44
45
46
47
48
49
50
51
52
53
54
55
56
57
58
59
60
61
62
63
64
65
66
67
68
69
70
71
72
73
74
75
76
77
78
79
80
81
82
83
84
85
86
87
88
89
90
91
92
93
94
95
96
97
98
99
100
1
2
3
4
5
6
7
8
9
10
11
12
13
14
15
16
17
18
19
20
21
22
23
24
25
26
27
28
29
30
31
32
33
34
35
36
37
38
39
40
41
42
43
44
45
46
47
48
49
50
51
52
53
54
55
56
57
58
59
60
61
62
63
64
65
66
67
68
69
70
71
72
73
74
75
76
77
78
79
80
81
82
83
84
85
86
87
88
89
90
91
92
93
94
95
96
97
98
99
100