Doha has high aspirations for Torch install
Marking Qatar's sporting aspirations, The Aspire Zone attracts local and international sport enthusiasts to a 250 hectare site In Doha. Symbolising the spirit of the 2006 Asian Games, The Torch Doha is a 300m-high beacon of luxury, offering 360° views across the whole of the city.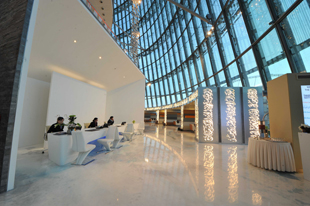 AVTech, Paxt's distributor for Allen & Heath in Qatar, found itself facing a similarly tall order to install a user friendly solution – audio quality and system redundancy being the focal points. Comparing the conventional matrix processors in the market, AVTech opted for integrated Q-Sys system from QSC,and an Allen & Heath iDR-8 matrix mixer to provide separate audio management and control.
In seven meeting rooms, the AVTech team installed the Allen & Heath iDR-8 16x16 matrix mixer. The iDR-8 matrix mixer audio management facilities reduced the need for additional devices, as well as providing A&H preamps, 24-bit audio conversion and fixed DSP architecture. The iDR System Manager software offers customisation and control through user-defined configurations, custom EQ, mixing and PL-Anet remote control.
'The Torch Doha, meeting rooms sound great with the processing power of the iDR8 and brings user friendly and reliable technology to each of the meeting rooms,' says Pradeep Kumar, Project Manager for AVTech.
'AVTech provided a high-quality and comprehensive turnkey solution, and is an excellent partner for Allen and Heath and Paxt,' adds Hugo Feighery, International Sales Manager for Paxt. 'The company is regularly involved in high-profile projects and promotes Allen and Heath very successfully.'
More: www.allen-heath.com
More: http://paxt.com
More: http://avtech.com.qa
Camala Letrick: Masque Sound

US theatrical sound reinforcement, installation and design company Masque Sound has named Camala Letrick as its Director of Marketing. Letrick brings a strong history of marketing and PR to her new role,...

Read More...
1
2
3
4
5
6
7
8
9
10
11
12
13
14
15
16
17
18
19
20
21
22
23
24
25
26
27
28
29
30
31
32
33
34
35
36
37
38
39
40
41
42
43
44
45
46
47
48
49
50
51
52
53
54
55
56
57
58
59
60
61
62
63
64
65
66
67
68
69
70
71
72
73
74
75
76
77
78
79
80
81
82
83
84
85
86
87
88
89
90
91
92
93
94
95
96
97
98
99
100
1
2
3
4
5
6
7
8
9
10
11
12
13
14
15
16
17
18
19
20
21
22
23
24
25
26
27
28
29
30
31
32
33
34
35
36
37
38
39
40
41
42
43
44
45
46
47
48
49
50
51
52
53
54
55
56
57
58
59
60
61
62
63
64
65
66
67
68
69
70
71
72
73
74
75
76
77
78
79
80
81
82
83
84
85
86
87
88
89
90
91
92
93
94
95
96
97
98
99
100