Vue China partnered with Beijing-based production company SAG for the second annual RYE Music Festival in Beijing – the China capital's first outdoor music event of the season, and one of just a handful of sanctioned events given the PRC's anniversary security measures. The festival was staged Changyang Music Park and headlined by The Jesus & Mary Chain and Taiwanese pop stars Jolin Tsai and Jay Chou.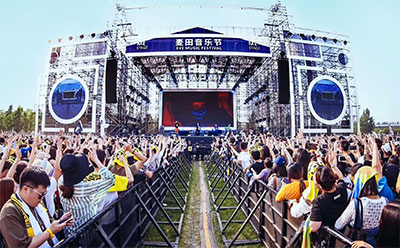 With three stages, more than 40 acts ranging from electronic to folk, and a 300ft-deep audience field, the festival presented a number of unique challenges which included functioning in 100°F temperatures and spring-time dust storms. According to SAG owner of and long-time Vue China partner Mr Zhang, Vue's al-Class was the obvious choice for the festival given the brand's worldwide touring notoriety and renowned sonic performance. 'Since first using Vue in China, my team and I continue to be amazed by the system's range, reliability and reputation,' he says.
To accommodate the range of music genres and audience coverage, Vue China designed an al-Class system comprising two hangs of 16 al-12s, and 28 groundstacked hs-221 subwoofers arranged in a cardioid end-fire configuration. In addition, 12 al-8s were divided into four groups and evenly stacked on the subwoofers for front fills, while eight al-8s and twi hs-221s on the front edge of both sides of the stage provided side fill. Two h-12s and a single hs-28 were used as monitors, with 16 Vue V3 and five V6 amplifiers providing power for all arrays.
Over the course of the two-day event, temperatures hovered around 100F-110F, but the Vue rig performed regardless. Several visiting engineers praised the system's bandwidth and how effortlessly it delivered everything from hip-hop to acoustic sets with very little adjustments. 'At FOH almost 70m from the stage, it's almost unimaginable how excellent the high frequency output is,' one said. 'The Vue system is truly incredible.'
More: www.vueaudio.com