Halfway between San Francisco and Los Angeles on California's Central Coast, Paso Robles is not only a popular tourist destination but also a host to conferences and business meetings. New to this scene is Oxford Suites Paso Robles with 2,500sq-ft of meeting space, 101 executive suites, ballroom, boardroom and amenities including electric car-charging stations. A second construction phase will add 40 more rooms.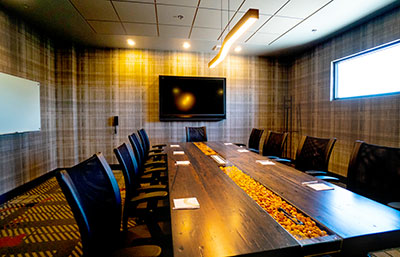 Over the past six years, Audio Visual Bend has served the Oxford Collection hotel chain's requirement for A/V systems in public and business spaces. 'We did a proof-of-concept install at one of Oxford's early boutique hotels here in Bend, upgrading it from a home theatre A/V system to a commercial A/V system,' recounts AV Bend A/V Designer/Project Manager, Tony Sprando. The Paso Robles location is the fifth Oxford Collection property on which AV Bend has worked.
Key to the Oxford Corporate installs are Symetrix DSP networks and control panels providing media services through the primary hotel areas. In Paso Robles, AV Bend installed a Symetrix Prism 12x12 DSP and a Prism 8x8 DSP to cover the meeting rooms, boardroom and public spaces, which include the pool, garden, port cochère (drive-thru entrance area), lobby, bathrooms, bar, and dining room.
With so many areas to cover, AV Bend needed the ability to configure a number of zones, as well as easily cover the distances involved between the spaces. The Prism processors are equipped with Dante networking and a wide selection of I/O configurations and options, making them a versatile choice for installation into multiple Oxford projects. 'We're trying to be very flexible,' Sprando explains.
Music distribution, possibly the most common audio task in hotels, is one of the areas where Symetrix products delivered flexibility: 'The two primary background music sources are Pandora for Business/Mood Music playlists,' Sprando says. 'One playlist is for the public spaces, while the other one is designed for the meeting rooms and boardroom, so the hotel can choose different genres for events that might be happening in those private areas. Furthermore, they can pull background music from the hotel into the meeting rooms, then turn that off and seamlessly transition into a presentation.'
Areas like the bar and restaurant have very simple control needs, requiring nothing more than a volume control for background music. In these areas, AV Bend installed Symetrix ARC-K1e modular remote control panels, which offer a rotary encoder with a button and a few LED indicators. For the meeting rooms and spaces that may need to route and switch sources or perform other control functions, ARC-3 adaptive remote control panels were put in. The ARC-3 features a touch interface and a menu system that can be programmed to perform complex logic-based events such as preset selection, source selection, and room combining.
The business meeting areas, having more sophisticated facilities, presented greater control needs. The meeting rooms are actually one large room that can be partitioned. Each of the resulting two rooms includes a projector and screen for video and is capable of hosting a wireless handheld microphone and a wireless lapel (lavalier) microphone.Event attendees can carry in a laptop and connect it through an HDMI jack or a VGA connection on a wall panel.
In the boardroom, laptops access the network via an HDMI jack built into the table. In addition, the boardroom has a Dell PC built into the room's TV, controlled by a wireless keyboard and mouse. The boardroom facilitates participation by people in offsite locations with an interactive touchscreen, camera, and microphone.
Oxford Corporate has been opening a new property every year, and Sprando expects to keep installing Symetrix systems in new properties as they are built: 'In the past five hotels, we've had very few service calls about the audio system. The Symetrix products have proven themselves to be quite reliable,' he concludes.