Named best new festival at the UK Festival Awards in 2017 and with headlining sets from Stormzy, Catfish and the Bottlemen and George Ezrathis, the recent TRNSMT drew 150,000 music fans to Scotland's Glasgow Green where Adlib provided sound, lighting and screens for the main stage with newly purchased DiGiCo SD12s gracing the FOH and monitor positions, serving an L-Acoustics L-Acoustics K1/K2 PA system.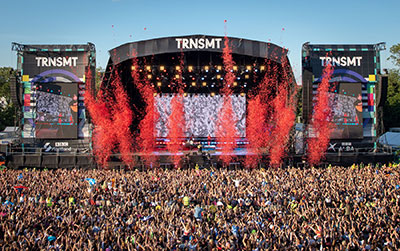 Adlib has a long history with organiser DF Concerts, not least through T in the Park, with which the company had been involved since 2006. This was the first time that Adlib had supplied all four primary technical disciplines – including a production rigger – having been the lighting and audio contractor since the festival began in 2017. 'It made sense for everyone to have one locally-based technical solutions provider this year, which ensured the whole process ran smoothly and efficiently,' says Adlib's Chris Neary.
The company is also a long-time DiGiCo user, and has seen the benefits of having SD12s in its inventory since its first purchased one in 2017 for Placebo's tour: 'For that summer, we decided on the SD12 as the festival monitor board of choice going forward,' says Adlib Director, Dave Jones. 'We got a lot of our engineers and directors involved in that decision-making process. There were a few options on the table, but we thought that the SD12 offered us the most rentable solution year-round and would also put us in a good stead for the future.'
Adlib subsequently purchased five further consoles, taking its SD12 inventory to 12, citing a general shift towards DiGiCo as the choice for festival house consoles as the reason behind this substantial investment, as well as a need to cover the numerous control packages that Adlib now tours over the same festival period.
With two SD12s at FOH and two at monitors for TRNSMT, plus a support/spare SD12 and a number of requested consoles for incoming acts, including an SD12 for Stormzy's monitors for his headline set on the Friday night and an SD10 for FOH for Years and Years, the decision has proved a wise one.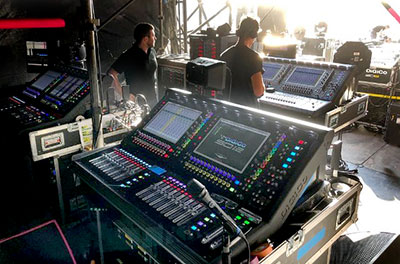 'The house consoles at TRNSMT were very well received and extensively used across the festival's three days,' says Jones. 'Some of the major acts such as the Kooks tour with SD12s, but they left them in the truck and used the house consoles instead, which made their lives much easier.'
For the loudspeaker system, Adlib reverted to one of its fine-tuned festival systems – a combination of L-Acoustics K1 and K2 elements, hung in a variety of configurations. This has a proven track record for covering a range of regular festival scenarios over the last few summers. Here, the set-up was for main LR hangs, plus side hangs either side of the IMAG screens for a total of 24 K1 and 24 K2. The subs were L-Acoustics KS28, 36 in total, all groundstacked in columns in front of the stage. Twenty-two boxes of Kara were used for in fill, out fill and lip fill.
Four delay hangs were built either side of and parallel with FOH on two towers 20m apart, and these utilised a total of 28 K2 elements.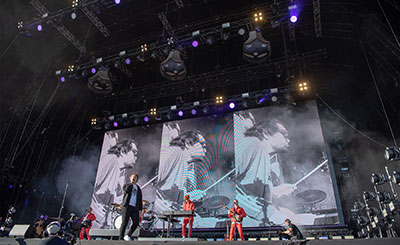 Most of the bands brought in some sort of audio package of varying sizes and complexities, all of which were accommodated with minimum fuss, and for those using the house monitor system,12 Adlib MP5 wedges were available.
Adlib's audio crew chief on site was Aaron Greig, and he also spent a lot of time advancing the PA requirements of all the artists. Several multicores were provided for bands so they could simply rock up and hook their own consoles into the Adlib line system. 'Being the third year, we knew what to expect which made certain things a lot easier and enabled us to refine some elements,'Neary reflects, explaining that the goal was to make the house systems as seamless as possible for visiting crews and in doing so, offering fully specified technical packages to meet their expectations.
'Having a fully Adlib technical team also had many advantages, and everything worked out well including the weather. We enjoyed all the teamwork and camaraderie between ourselves and with the visiting crews and we've received some excellent feedback.'
TRNSMT heads back to Glasgow Green in July 2020, while Adlibs SD12s will be constantly busy for the remainder of the 2019 festival season.