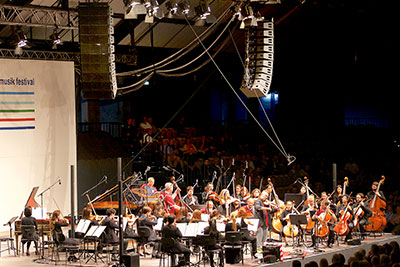 Performing at the Schleswig-Holstein Music Festival to an audience of around 3,500, violinist Nigel Kennedy was accompanied by the event's orchestra, which comprised young musicians from no less than 27 nations selected from 1,500 applicants during international auditions. Dutch loudspeaker manufacturer Alcons Audio teamed up with Kennedy's sound engineer Andreas Adelhofer of Headroom Media Service for the sound experience…
Adelhofer, who has been working as sound engineer for Kennedy for more than five years, is responsible for all his concerts worldwide as FOH engineer. In this capacity, he is also the interface between artist and promoter or service provider in the production preparation. In part, his company also provides the complete production for European tour stops.
The concert in Neumünster was Adelhofer's first encounter with Alcons Audio: 'I've been wanting to test an Alcons pro-ribbon system live for a long time, and from time to time I'd been talking to Carsten Albrecht from Alcons Audio Germany,' he says. 'With Nigel Kennedy, I was finally able to put this project into action.'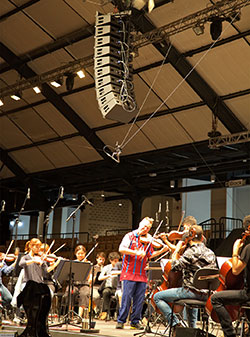 The PA system comprised 36 Alcons LR18 midsize line array elements (16 front, 20 out fill), six Alcons LR7/120 as front fill, four RR12 as centre cluster, two RR12 as side fill and six BF302 (two 15-inch bass) in cardioid arrangement. All systems were digitally powered by a single Sentinel S10 controller amplifiers.
As it is a sports arena with an arched roof, the Holstenhalle 1 is not the ideal place for a classical concert and challenges sound engineers and PA technology, as Adelhofer reports: 'Acoustic pre-planning played a key role in these circumstances. Both me and the artist himself are always interested in an unobtrusively natural sound that is as acoustic as possible. My maxim is, "You only hear the PA when it's off". At the same time, every viewer should be acoustically close to the action and, so to speak, sit in the front row.'
'This requires optimal miking and a very well-tuned loudspeaker system, which covers the room and the spectator area evenly without any increase in frequency response and sound level distribution. This was perfectly achieved with the Alcons LR18 line-array as the main system. After measuring the system by Uwe Biesgen as a system engineer, we had only 1dB level drop in the frequency domain on the places farthest from the stage.'
The Alcons system has convinced him overall: 'As I expected, the system has delivered excellent coherence. The acoustic image in the entire audience area was extremely homogeneous, especially in this acoustically very demanding environment of a transversely played hall with arched roof. If then also concertgoers pass the FOH during the break and praise the unobtrusive, defined and warm sound, I believe everything went excellent.'
More: www.alconsaudio.com