Following a technical upgrade at its Lisbon broadcast centre that included Lawo V__matrix and VSM IP systems, Portugal's leading private broadcaster SIC (Sociedade Independente de Comunicação) now boasts Europe's largest ST2110 facility to date, with data streams travelling several kilometers. After four months of operation, SIC's production teams are seeing a major boost to their with from ST2110 and ST2022-7 implementation.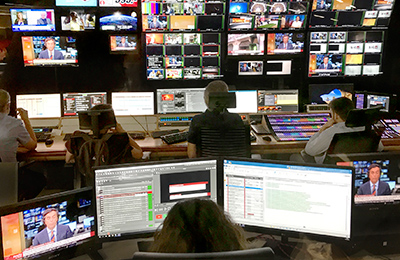 Lawo supplied and installed 15 V__matrix software-defined IP core routing, processing and multiviewing devices, 39 C100 core processing blades as well as vm_dmv multiviewer, vm_udx up/down/cross conversion and other software modules for the V__matrix platform. The Lawo VSM Broadcast Control System (Virtual Studio Manager) was chosen to control both baseband and IP devices for lightning-fast patch and configuration changes via VSM user panels.
'We studied what the industry was offering and what would be right for us in terms of technological platforms,' explains José Lopes, SIC's Director for Operations & Technologies. 'We were especially interested in what Lawo, Sony and Cisco proposed.'
'In SIC's set-up, Lawo provides the processing power, Sony supplied its Live System Manager vision mixers and cameras, and Cisco took care of the spine/leaf network infrastructure,' says SIC TV Systems & Equipment Integrator, Carlos Ladeira. 'The reason to choose V__matrix was mostly related to the flexibility, which no other contender was able to match.'
VSM, Lawo's overarching, brand-agnostic control system provides extensive control over both IP-native and SDI devices. In addition, 'ST2022-7 network redundancy, together with the control systems we have here, like VSM, definitely make our life a lot easier,' says SIC Coordinator of Infrastructure Management, Miguel Inácio.
'We can use a production set-up in one of our production control rooms and completely reconfigure it for the next programme within seconds. In May, we covered Portugal's EU election. For the first time in our history, changeovers no longer required physically repatching a bunch of cables – with VSM, all went a lot faster.'
'We have a 24-hour news channel with a dedicated studio and production control room running almost around the clock,' Ladeira adds. 'We have not had the slightest issue, so I guess this is a good proof of stability.'
Besides the fact that SIC's operation has been running smoothly since January 2019, the various SIC teams involved in this IP project are understandably proud of delivering the project two months ahead of schedule: SIC's new installation went on air on 27 January 2019 – dubbed The Day When Information Will Change Forever.
More: www.lawo.com