Based in the foothills of Colorado's Pike's Peak, Charis Bible College is the main Woodland Park campus of a Christian school withmore than 70 extension and satellite locations around the world. The college's latest major development is The Auditorium, a 3,200-seat worship, performance and teaching space that serves as the heart of the campus and will soon host Charis' 25th anniversary festivities.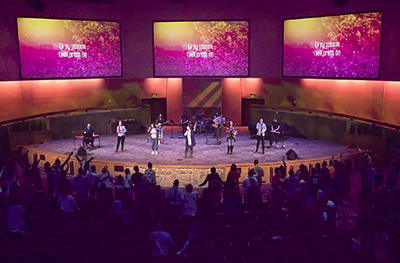 For the design and installation of The Auditorium's audio, video and lighting systems, Charis called on HOW systems integrator AcousTech, who installed three Klang:vier immersive IEM mixing systems as part of the project.
'When we met last year to finalise the sanctuary's AVL system designs and gear choices, Nate Carter, Charis' AVL engineer, brought up his interest in using Klang before I could suggest it,' says AcousTech President and founder, Roland Dutzmann.
'I was first pointed in the direction of Klang by a Swedish friend who is a musician, composer, and producer,' Carter elaborates. 'Our Worship Arts department practices a great deal of diversity in style and ensemble size and type. We do everything from classic and modern gospel to more modern worship styles and artists, and we're also moving to include classical liturgical styles as well for certain events. In terms of our technical needs, flexibility is key. The ability to cascade three Klang:vier units for 24 input channels, the Dante integration, and the ability to create configuration presets have been vital. I use a combination of Shure PSM 900s, RedNet AM2s, and the direct headphone outputs on the Klang:viers to accommodate all of the IEM locations needed, and I couldn't have done that without the array of I/O options integrated into these units.'
Prior to The Auditorium's completion, Charis' worship services were held at The Barn, another facility on campus that houses a 1,100-seat auditorium where vocalists shared floor wedges and musicians used another popular brand of personal monitor mixers.
'With the new Klang:vier units, we have now given each vocalist and musician control of their own individual mixes, which has made everyone happy,' Carter says. 'The 'positional panning' available in the Klang system is a big hit as it allows them to get a great deal more clarity in their mix, and the proportional volume function – turning other channels down when a channel is at max volume – is very useful to them as well. Also, the improvement in audio quality was instantly apparent and appreciated over the former system we were using at The Barn.'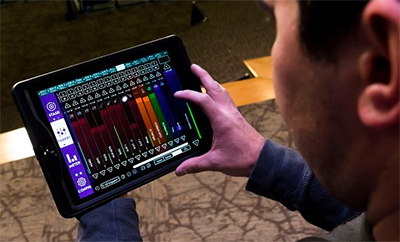 If necessary, the IEM mixes can be monitored and controlled at any time from an iPad located adjacent to the Yamaha CL5 FOH console, or via a laptop on the church's dedicated A/V network/routers. But, as a general rule, each of the singers and musicians on stage are controlling their own unique mixes via the intuitive Klang:app on their own personal iOS and Android devices.
Although this was AcousTech's first project using Klang:technologies products, Dutzmann notes that the implementation and adoption was quick and simple: 'We felt it would be a good fit because it provided excellent flexibility in control. Plus, the ability to actually position sources in an immersive soundscape is a fascinating approach that, along with Klang's superior sound, really helps the worship team deliver their best performances. And from a front-of-house and audience perspective, it's fantastic to have no floor monitors, which both clutter the stage and often create undesirable sound reflection issues in the house.'
Carter echoes Dutzmann's impressions: 'I am very happy with Klang,' he says. 'I think it represents what many other personal IEM mixing systems were trying to accomplish, but never quite did. And that is the natural soundstage of acoustic monitoring with no stage sound coloring the house mix and the convenience of a personal mix. It's been an overwhelmingly popular addition for us here at Charis.'
More: www.klang.com