Rupert Neve Designs (RND) has introduced Fidelice – a new range for the high-fidelity audio market that includes The Precision Headphone Amplifier, Precision Phono Pre-Amplifier and Precision Digital-to-Analog Converter.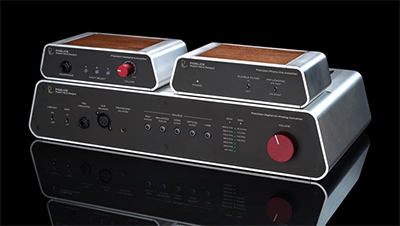 The Precision Digital-to-Analog Converter is the new range's flagship product, built around pure class-A topologies with transformer balanced XLR outputs, and it 'represents a new standard in digital accuracy from the master of analogue'. In DSD mode, the DAC is capable of operating at the highest available standard of DSD512 (22.4MHz), and in PCM mode it is capable of reproducing 384kHz, 24-bit files. According to the company, 'Pristine clocking with the top-of-the-line AKM converter chips and highly customized integration make the precision DAC a true reference level product'. The Precision DAC's rear panel also features digital filter sets to further adapt the sound for any system.
The headphone amplifier within the Precision DAC elevates the RNHP, with an entirely new design featuring XLR balanced and Pentaconn balanced connections in addition to the quarter-inch unbalanced output. It also includes a high-gain switch making it capable of driving the most difficult-to-power headphones.
The Precision Phono Pre-Amplifier is a new design based around the classic amplifier topologies that have made Rupert Neve's microphone preamplifiers so sought-after for decades, and is intended to 'elevate your turntable set-up with the classic sound of Rupert Neve'.
Purpose-designed low-noise JFET-based discrete class-A amplifiers are implemented throughout the signal path for both MM and MC gain stages, 'each painstakingly tailored for an enthralling listening experience with unparalleled accuracy, depth and expressiveness.' The Precision Phono Pre-Amplifier includes a switchable 18dB/octave rumble filter, and the MM signal path also includes selectable capacitance of either 110pF or 220pF to pair with a large variety of cartridges.
The Precision Headphone Amplifier is an updated version of Rupert Neve Designs' award-winning RNHP, a 24V reference-quality headphone amplifier, complete with a new steel-and-wood industrial design that makes it at home in any living room or office. Each of its three sets of inputs is specifically calibrated for optimal level and impedance, and it offers effortless, wide-open sonic performance and abundant power to drive any headphones without compromise.
The Precision Phono Pre-Amplifier and Precision Headphone Amplifier are shipping at the end of Q3 2019, with the Precision DAC shipping shortly after. All Fidelice products are made in the US and feature high-end, steel-and-wood construction.
'We are extremely proud of what we've been able to accomplish with the Fidelice range of products, and it's exciting to be able to provide what has become the reference in world class studios to the audiophile and hi-fi communities,' says Rupert Neve Designs' General Manager, Josh Thomas. 'This brings Rupert's designs full circle, as his first commercial endeavour was actually CQ Audio, a British hi-fi company.'
More: https://fidelice.com