Based in Esslingen, near Stuttgart, German newspaper Eßlinger Zeitung offers news and events reporting in the Baden-Württemberg region, as well as carrying national and international news, entertainment, sport and travel. Its multi-purpose conference room was recently upgraded with a Yamaha audio and control system, significantly improving the facility for staff and customers.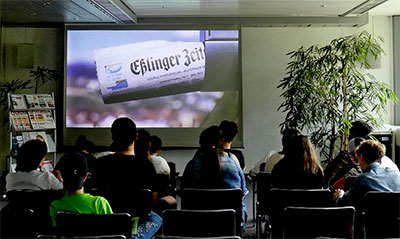 Eßlinger Zeitung publishes in print and online, as well as having a dynamic online television channel (ES-tv), YouTube and social media presence. Used for meetings, presentations, interviews, staff and media briefings, the new conference room needed a flexible, high-quality A/V system, which could be easily controlled by any member of staff.
Bringing more than 25 years in the A/V installation and live production business to bear, events creative GmbH designed and installed the system following company MD Markus Zimmer's brief, using a Yamaha solution based on the MTX3 matrix processor and the MCP1 surfacemount control panel, because it offers flexible control as well as high-quality sound.
With up to 36 parameters assignable to the MCP1's home page and its six sub-pages, it has allowed the entire system – including the inputs and power to an Epson laser projector, as well as the audio system – to be controlled from the same panel.
The system also includes a pair of wall-mounted Yamaha VXS8 full-range loudspeakers and a floor-mounted VXS10S subwoofer, all with white finish to blend with the room's décor. These are powered by an XMV4280 multichannel amplifier, with an SWR2100P-5G L2 network switch supplying PoE to the MCP1 control panel.
'Thanks to the GPI connectors on the MTX3, we could not only supply a system with great sound, but with very versatile control,' Zimmer says. 'The MCP1 is programmed with a number of presets, allowing members of staff to press a single button and instantly make the system ready for any application.'
Eßlinger Zeitung Project Manager Ingo Brucker comments: 'I am full of praise for [the new system]. Markus suggested a great solution, which has surpassed what we thought was possible. The system has made the room more user-friendly, and significantly improved the quality of our presentations to staff and customers.'
More: www.yamahaproaudio.com