Promoting the legacy of Dr Robert A Moog, the Bob Moog Foundation is a non-profit organisation brings STEM (science, technology, engineering and math) teaching to children through interactive, hands-on music synthesis into schools through the Dr Bob's SoundSchool programme. Its new Moogseum interactive facility opened in May in the foundation's hometown of Asheville, North Carolina, supported in part by equipment donated by Mackie.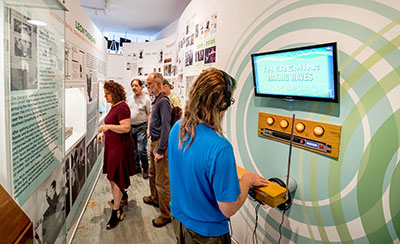 Accompanying the Moogseum opening were Mackie's new 1.6kW DRM215 15-inch professional loudspeakers and a 2kW DRM18S 18-inch subwoofer, as well as 150 pairs of MC-250 high-performance studio headphones.
DRM Series loudspeakers combine tuning, premium components and DSP that takes advantage of powerful FIR filters, transducer time alignment and precision crossovers suited to a wide variety of applications, Mackie DRM Series loudspeakers can be stacked, pole-mounted or flown in line arrays. The company's MC-250 headphones feature reference-quality 50 mm drivers and reveal every detail of a mix, delivering the clarity and accuracy needed for critical listening and mixing, along with exceptional low-frequency response.
'The Bob Moog Foundation deeply appreciates Mackie's generous support,' says Michelle Moog-Koussa, founder of the Bob Moog Foundation and daughter of Dr Moog. 'My father dedicated much of his life to developing inventions that enabled the creation of amazing, creative sounds. Mackie's superb loudspeakers and headphones will enable Moogseum visitors and students who experience Dr Bob's SoundSchool to hear the sounds of Moog instruments in their full glory.'
'Bob Moog was an inspiration to us, as he was to so many musicians, sound designers, and inventors,' says Mackie MD Shaunna Krebs. 'The Bob Moog Foundation carries on his work by helping educate and inspire today's and tomorrow's musicians to create their own legacies. We are proud to contribute to that noble effort.'