Alongside its interactive exhibits and bluegrass memorabilia, the Bluegrass Music Hall of Fame and Museum (BMHFM) in downtown Owensboro, Kentucky also curates and promotes contemporary bluegrass through the adjacent Woodward Theatre – a 450-seat purpose-built space for acoustic music.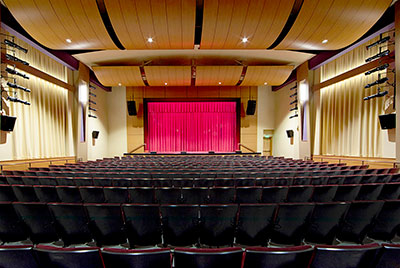 BMHFM worked with national AVL integration firm Clair Solutions to make the theatre capable of broadcasting, editing, streaming and archiving performances from hall of fame inductees and bluegrass's rising stars. Specifically, Clair Solutions designed, installed, and commissioned the video, audio, lighting, and rigging systems for the Woodward Theatre.
'The folks who were responsible for the Woodward Theatre project were aware of the AVL work we did at the Franklin Theatre in Franklin, Tennessee,' explains Clair Solutions Theatrical Lighting Designer, Michelle Caron. 'That project received a lot of press and accolades. The vision for Woodward Theatre was state-of-the-art technology and comforts, but with the usability of a good old fashioned roadhouse. They wanted touring musicians and engineers to feel right at home. Live music and touring are in our DNA. All of our audio, video, and lighting expertise is in-house, both on the design and installation sides. We don't outsource any of it.'
The comprehensive video playback, capture, routing, and editing system starts with a Barco Digital Cinema DP2K-19B projector and integrated server – technology found in a modern, high-end cineplex. Blu-ray playback is accompanied by full 7.1 surround sound for movies and video presentations, allowing BMHFM to not only show bluegrass-related content but also to provide art house cinema for the local community. On the event-capture side, four Sony BRCX1000 high-definition pan/tilt/zoom cameras can be mounted and connected from numerous locations throughout the room. A full Avid Pro Tools HDX system provides multitrack recording and mixing capabilities. A Ross Video Carbonite video switcher system with XPression graphics playback and Ultrimix routing, paired with Atomos recorders, give BMHFM all the power it needs to create fantastic videos. Rather than hiding all of that technology away, the Woodward Theatre has a 'fishbowl' where visitors can watch the engineers working. Finally, Clair Solutions designed in splits and connectivity to give comprehensive audio and video feeds for broadcast trucks.
To complement the room's incredible acoustics, Clair Solutions used the i208 line array system from its sister company Clair Brothers. The USLP218 subwoofers round out the low end, and musicians can get deep into the music onstage with eight Clair Brothers 1AM monitors. Lab.gruppen amplifiers power the system with a combination of integrated and stand-alone Lake DSP for loudspeaker conditioning, and QSC Q-Sys DSP handles overall signal conditioning and routing logic. A DiGiCo SD9 console provides a comfortable interface for any audio engineer. All audio signals are conveyed between equipment via a Dante system with a redundant analogue backup.
Despite the tremendous scope of the job, the Clair Solutions team gracefully navigated delays and tight timelines that were imposed on them by other aspects of the overall project. 'We dealt with the situation as it was,' says Clair Solutions Senior AVL Technician and Project Manager, Gaetan Rioux. 'Early on, that meant providing advice and making decisions before they were ready with a contract. Other delays toward the end meant we couldn't get in to work until two months to deadline. We gathered the troops and worked through some weekends to make it happen.'
'This fantastic venue is a music-centric cultural centre, so we are all about music with a mission,' says Chris Joslin, Executive Director of the Bluegrass Music Hall of Fame & Museum. 'Nothing highlights the deep legacy of bluegrass more than live music and it energizes everything we do. The production capability we have through Clair Solutions enables us to deliver in the performance space, but also enables us to take the great performances far beyond the four walls of our theatre through live streams and television. In addition, every great performance and programme is archived, both visually and sonically, for the future. That kind of preservation work is at the very heart of our mission.'
More: www.clairsolutions.com