At the end of the 1960s, Sunriver, Oregon, was constructed as a planned community 20 miles southwest of the city of Bend. The 2010 census shows only 1,393 residents but its location at the base of the Cascade Range makes it a vacation destination, and resort properties make up much of the town. The Sunriver Homeowners Association Aquatic and Recreation Center (SHARC) opened in 2012, providing indoor and outdoor swimming pools, a fitness centre and meeting and event spaces.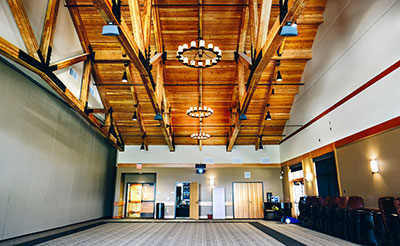 By 2019, however, the original sound and video systems at SHARC were in need of an upgrade, which precipitated a call to local A/V design/build company Audio Visual Bend.
'There was no new construction at that time; it was purely an end-of-life A/V system upgrade,' reports A/V Designer/Project Manager Tony Sprando. Nevertheless, it was not a small project, as numerous areas required coverage, including the pool areas, a fitness centre, eatery, store and lobby, plus an amphitheatre that holds up to 1,250 guests and four meeting rooms accommodating up to 650 people.
SHARC wanted to retain whatever portions of the existing system could continue to serve effectively, so the project involved upgrading some existing components and reusing and adjusting others, as well as installing one Symetrix Edge and one Symetrix Radius 12x8 EX DSP. The Edge hosts up to four I/O expansion cards, in this case configured for 12 analogue inputs and four analogue outputs, which it integrates with 128-channel (64x64) redundant Dante networking. The Radius 12x8 EX offers 12 analogue inputs, eight analogue outputs, 128-channel Dante, and an expansion slot, filled at SHARC with four channels of analogue output.
The Radius handles programming for the entire audio system, while its I/O services the event and meeting spaces. The I/O in the Edge is divided between the event and meeting spaces and the public spaces. Background music and paging for the public spaces required setting up a total of 12 zones.
The system Sprando found on his arrival used analogue signal runs exclusively, so the conversion to a Dante digital audio network was a key improvement. The installed Ashly Audio amplifiers were upgraded to accept input signals over Dante, and the audio equipment in public spaces, pool areas, and the amphitheatre were connected to the Dante network. Bose speakers and Crestron controls at the site were retained, as was nearly all of the cabling. 'We had to relocate some Cat5 and Cat6 Ethernet cable to get all of the Dante jacks in place, but other than that, the wire was 90 per cent there,' Sprando says. Only minimal adjustments to existing equipment were required, such as adjusting the speakers for better coverage.
The Crestron controls functioned well with the Symetrix devices. 'The client wanted to keep the type of control system they had in place to maintain its familiarity,' Sprando reports. 'We had to upgrade the Crestron equipment but it really integrated seamlessly with the Symetrix units. There were no hitches.'
The system accepts a variety of sources – a cable box for video and music playback; Pandora for Business/Mood Media boxes; a plethora of wireless microphones for the meeting spaces, which can be combined or split; and media patch points on panels to simplify connections for tasks like capturing an audio feed playing in the room to a video camera while recording video. The patch points get used for weddings or to feed local TV stations working onsite. Since the facility is operated by an association, media patching is also used to record board meetings.
The addition of the Symetrix DSPs also greatly simplified maintenance issues. 'The ability to make changes and troubleshoot using internal staff and resources was nonexistent when we came in, so when a change of some sort was needed, SHARC had to bring in someone from out of town, which was very expensive,' Sprando explains. 'Plus, file system and access was quite limited; the tech had to bring in a computer to make the change locally and needed the right software version or things could go bad. It was very convoluted. Symetrix has the editing program residing in the DSP unit, which makes it easy for SHARC to edit the system remotely. We gave them a Chromebook, so they have remote access all the time. The property is really big, and the IT department that manages the system is not even located onsite. But now, even on a tech's day off, he can just log in from home and make any adjustments.'
Sprando feels training is key to an effective installation, and gives kudos for the support AV Bend received: 'During the SHARC project, we found it very important to get the latest certifications on the Symetrix gear and on Dante, which we did through the whole process. Symetrix and Audinate were very accommodating with those training and continuing education steps. That sharpened us, as well as making the end product significantly better.'
More: www.symetrix.co