The Sydney Theatre Company has adopted the Danish manufacturer's Core by DPA amplifier technology, which is now incorporated into DPA d:screet Miniature, d:fine Headset and d:vote Instrument Microphones.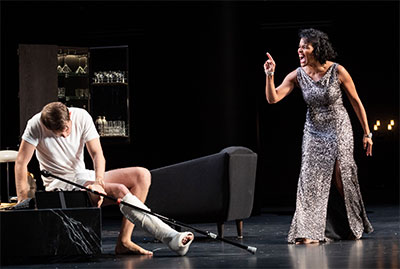 Already the owner of a substantial DPA stock, the Sydney Theatre Company (STC) recently added 75 d:screet Core 4061 Miniature Omnidirectional Microphones to its inventory and is putting them to use on a number of productions, including a new version of Tennessee Williams' Cat On A Hot Tin Roof. 'Once the new Core technology arrived, I was keen to put it through the rigours of a regular season at STC,' says Ben Lightowlers, STC's Head of Sound and Audio Visual
'The goal for us in Theatre is to not distract the audience with an obviously mic'd tonality but rather aim for a more naturalistic augmentation of the voice. The new Core mics boast a more open frequency response, which is appealing when balancing vocal performances of varying dynamics in circumstances where some cast members are potentially quieter than others on stage.'
The mics were supplied by DPA dealer Soundcorp, in conjunction with the company's Australian distributor Amber Technology. STC's DPA inventory also includes d:dicate 4017 Shotgun Microphones, d:fine Headset Microphones, d:vote 4099 Instrument Microphones, d:facto Vocal Microphones and more legacy d:screet 4061 Miniature Microphones than Lightowlers can count.
'In the 13 years I have been with STC, I estimate that we've purchased an average of fifty d:screet 4061s per year to service the main stage shows, of which there are 12-15 per year,' he says. 'They have a good resilience to sweat, skin contact, quick wig or costume changes and other extreme conditions we put them through. In the past this has included actors hurling themselves down a slip'n'slide across stage through a pool of water while fully nude, to a chorus of cast conducting an intimate conversation in typhoon conditions, all the while remaining intelligible to our audiences. Sometimes an actor might not leave stage for the whole play or it might be that a production spans over six hours.
Lightowlers adds that switching to DPA Core mics gives STC more resilience and even better dynamic range. 'I especially appreciate getting the microphones terminated to Lemo connectors at the factory,' he says.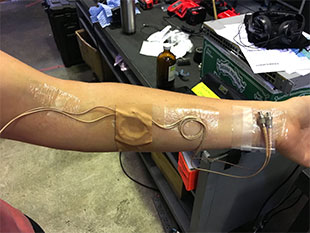 STC's new d:screet Core 4061s have already been used on the theatre company's longest-running production, The Wharf Revue, which is a musical parody of Australia's current political landscape. 'The Core microphones rose to the occasion and established that they could stand up to the demands of a typical STC touring production,' Lightowlers says. 'They are now being used for rehearsals for Cat On A Hot Tin Roof in which one actor has to take a shower on stage. Instead of being able to put a mic on the actor backstage after the shower, he needs to stay on stage until interval, so we'll need to introduce a capsule cover. It will certainly be a fun test for the team, but nothing we haven't overcome before.'
Although d;screet Core 4061s are small enough to hide in an actor's hairline without being too visible, Lightowlers says he is looking forward to trying DPA's new 6000 series Subminiature microphones because they are even smaller and more unobtrusive. 'The smaller, the better,' he says. 'All Core by DPA products are IP58 certified but the design of the 6000 series capsule permits even less water to enter, which is something directors should be aware of when they want their actors to perform underwater. I can't tell you how many times I have sat in a production meeting and had the sound designer, director or costume designer ask me for advice on how to deal with some cracked stage direction written into the script, that also has major dialogue over the top. Time and time again in those situations it is DPA that has saved the day.
'While our venues include a standard sound infrastructure, due to the large number of shows performing and rehearsing concurrently, we need to carry a sizable inventory of floating stock,' Lightowlers adds. 'I've found that it is far more cost effective to own all our equipment rather than to hire on a show-by-show basis.'
More: www.dpamicrophones.com