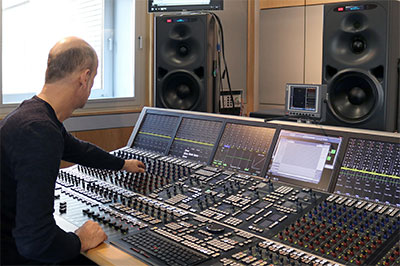 The German public broadcasters' ARD and ZDF medienakademie (formerly the School of Broadcasting Technology) has upgraded its Stage Tec Aurus mixing system to Aurus platinum.
The updated audio console has 40 faders and is embedded in a Nexus network with a router and four Base Devices. Nexus has been equipped with the latest components, such as the RIF67 router interface for Ravenna and the powerful RMDQ audio DSP unit for resource-intensive productions.
The ARD.ZDF medienakademie has had an Aurus-Nexus mixing system available for its seminars and advanced training courses since 2006. The hardware and software were brought up to date in order to be able to continue delivering the practical training.
ARD.ZDF medienakademie is a not-for-profit limited company and offers seminars for all specialisms in journalism and media production. There are also courses in technology, leadership, personal skills, communication and marketing open to everyone. The academy's training centres in Nuremberg and Hanover host more than 2,400 seminars every year on around 600 topics.
More: www.stagetec.com