On the three days before Good Friday, the streets of central Birmingham, UK, were taken over by The Birmingham Passion Play 2019, an ambitious, contemporary retelling of the Easter story, organised by Christian charity and theatre company Saltmine Trust, with support from The Passion Trust. To help bring the creative vision to life, Saltmine partnered with UK audiovisual production supplier, SFL.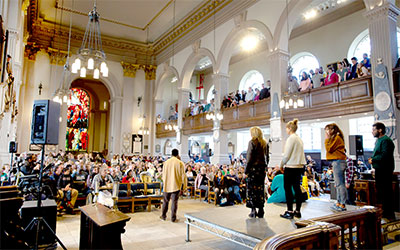 The Saltmine Trust Theatre company puts on regular public, partner, and education tours, as well as one-off shows, all inspired by the Christian faith. Even for Saltmine though, The Birmingham Passion Play 2019 was an ambitious undertaking as it was delivered on the move – a travelling street performance that started at Birmingham Bullring, progressing along New Street to Victoria Square, and finishing inside St Philip's Cathedral – making the stage more than half-a-mile wide.
It required a team of around 100 community actors, musicians and stewards alongside the core theatre company's cast and crew, as well as extensive technical support and planning.
SFL supplies and supports a wide variety of events across the UK and internationally as part of SFL Group, as well as being the official A/V partner of The Royal Albert Hall and UK sales partner for d&b audiotechnik.
'This production was only possible with an incredible effort by all the Saltmine and SFL team members spreads across six locations – each telling the next part of the story as the cast performed through the streets between them,' says SFL Project Manager, Mitch Jones comments. 'More than 2,500 people came to watch the performance over three days, and we had interest from local news channels, including the BBC.'
The tech required to make the event run smoothly included, four Yamaha QL1 consoles, 67 channels of Sennhesier RF, 24 d&b loudspeakers, 25 two-way radios, and 140m of cable ramp.'We had a good-sized team there as well,' notes Jones. 'Five SFL engineers, one lead audio engineer, three Saltmine engineers, two volunteers – and me.'
'I knew ofSFL because of some of the work I'd done at Spring Harvest and an existing connection with Mitch Jones, the Project Manager,' says Saltmine Trust CEO, Rachel Orrell. 'The company's experience of passion plays made us sure they were the right people to go with, as this was not an easy thing to tech.'
Some of the production challenges were strictly technical, and some were directly related to the play's journey through the Birmingham Streets. 'All scenes for the production had to be set up and taken down within very tight time constraints,' says Jones. 'We managed to meet all of those with time to spare, which was amazing. I can't speak highly enough of our team delivering this. They took everything in their stride to deliver an incredible event.
'This was a journey with Saltmine that threw me lots of challenges and curveballs – maybe one of my most complex jobs to date. It couldn't have gone much better. There's already talk of more to come.'
More: www.sfl.live