Philippines' integrated resort industry pioneer Resorts World Manila (RWM) has created El Calle Food and Music Hall – 'a unique space that celebrates the Filipinos' passion for jam sessions, food, and good times over drinks'.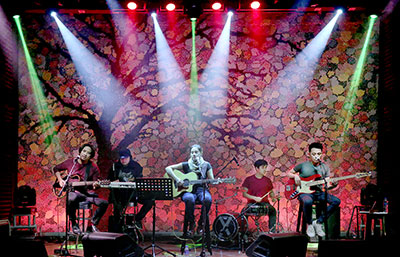 El Calle's latest acoustic chill-out spot, the hall stages nightly entertainment from some of the Philippines' best acoustic performers alongside performances from the country's top acts – True Faith, Ben&Ben, Clara Benin, Top Suzara, Luke Mejares, and their like. With El Calle's focus on live acoustic music, Clair Brothers got the call to devise a suitable sound system.
El Calle has a cozy stage and striking mural art, which is highlighted by glow-in-the-dark highlights that give the venue a cool, laid back ambiance. With meticulous attention to detail that is obvious at every level, the El Calle also stage boasts an LED screen for visual complements and lighting.
'El Calle is a very intimate space seating a maximum of 80 people, so we needed a sound system that could deliver powerful sounds but with the necessary clarity for clean acoustic performances,' says RWM Technical Director for theatre and entertainment, Ernesto De Leon. 'Since our theme is almost exclusively acoustic and unplugged acts, our wish list for the right loudspeaker and monitor brand was efficiently accommodated by Clair Brothers.'
Clair Brothers Australia MD Wayne Grosser specified the equipment, confident it would deliver the quality the RWM team expected: 'The main FOH speakers are two Clair Brothers kiT12s that are flown horizontally, left and right, on the downstage edge at 4.8m high, with two Clair Brothers CS18-IIs recessed into the stage front on the left and right,' he says. 'The system is running in tri-amp mode, which delivers the necessary headroom when needed from left and right of the console. The Clair Brothers FF2-HX front fills are on a matrix output, accompanied by seven 8CX-P-100s on six amp channels with on-board Lake processing delay zones controlled by four matrix outputs from the console. For stage monitors I recommended four Clair Brothers 12AMs powered by two CB12K-PLM amps.' The system also handles in-house speaker responsibilities on occasions when El Calle hosts corporate events, parties, or video productions.
'This room doesn't have naturally good acoustics, so Wayne came up with the perfect solution to place 8CX fill speakers from the venue's entrance all the way to the main bar area where they align with the main system,' adds De Leon. 'The result is evenly distributed, beautiful sound. Everyone loves the quality and clarity of the new sound system. We knew this would be the case. It is Clair Brothers after all.'
More: www.clairbrothers.com