A new dLive Digital Mixing System helps Lead Audio Technician Robb Albrecht and his audio crew manage a busy schedule at Harold Miossi Hall, a 1,300-seat performing arts and multi-purpose venue at the San Luis Obispo Performing Arts Center on the Central Coast of California.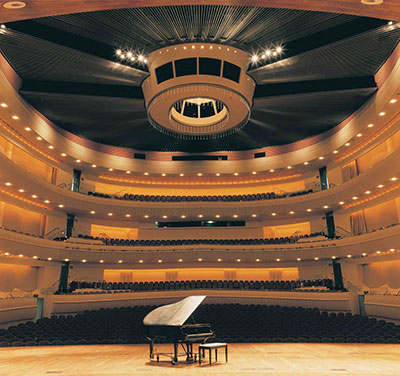 Hosting up to five shows each week – including nationally-known pop artists, symphony and jazz concerts, travelling ballet companies, Broadway shows and local groups – Albrecht and his staff manage the audio with a dLive S7000 Surface and DM64 MixRack for FOH, an S5000 Surface and DM0 MixRack for monitors, a C3500 Surface and CDM32 MixRack in a control booth and a pair of DX168 expanders located where needed. The system is networked with Allen & Heath gigaAce fiberAce and Dante cards.
'We had older digital mixers in each of these roles but, when funds became available, I knew that I wanted something more advanced,' Albrecht explains. 'We have an Allen & Heath GLD-80 in our black box room and it's really cool. And, when I saw the dLive, I realised it's yet another step beyond the GLD. The local Allen & Heath rep brought us a demo and I was blown away with how easy it was to get around on. Now, when we get road shows that don't carry their own desk, it's easy to train their engineers and they all love the dLive.'
Albrecht uses the dLive Director software to create show files away from the system, which saves a work and allows him to concentrate on getting the show up and running. dLive layers and DCA spills help manage multiple sources and mixes and Albrecht adds dLive scenes for selected performances.
'We have a storage room full of compressors, gates, reverb units, and EQs that I rarely use anymore because the effects in the dLive are amazing,' he reports.
'We host some diverse performances here at the PAC and each has their own set of challenges. But, the dLive's flexibility has helped our shows run smoothly and, compared to our old system, the sound quality is like night and day. When I'm on stage, I can stand by a musician playing a violin and listen to the articulation of their fingers. Now, I can go back to the desk and hear that same detail and that is pretty amazing.'
More: www.allen-heath.com