Marking a 19th year of providing sound reinforcement for the Coachella festival –regarded as one of the most challenging audio signal processing and distribution events worldwide – California-based Rat Sound Systems fielded Outline's Newton 16+8 audio processing units for the first time.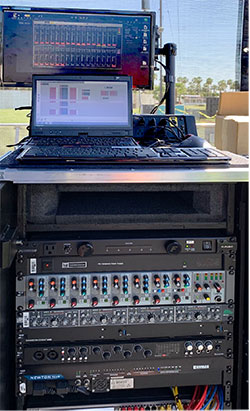 Jon Monson, Head of Touring for Rat Sound, led an extensive charge both in-house and at live gigs testing and analysing Newton's capabilities: 'This is the solution that we have been waiting quite some time for, the innovative technology coupled with dependability is unparalleled in the industry and it is now used in each of our Standard Drive racks because of its flexibility,' he says.
On hand for the entire festival is a highly respected and talented FOH System Technician, Bjarne Hemmingsen. Responsible for the Main Stage sound, he became extremely familiar with Newton's Dashboard software, and could see the extensive capabilities of Newton and its software platform.
'The Newton 16+8 coupled with our Dashboard software is a dream come true in technical innovation and flexibility', says J2/Outline US, North American Sales Manager, Jason Farah. 'Newton offers smart, real-time technical solutions to many of the ongoing problems Rat Sound Technicians experience, and the industry as a whole, for that matter.', Jason explained. 'A festival the size and scope of Coachella requires FOH agility with each artist's mixing console technical needs. Now Rat Sound can simply ask how they would like their signal sent.'
Newton provided Rat's FOH processing hub, to which each mixing console is connected and interfaced with a myriad of digital and analogue interfacing options. Final mixes from FOH and Newton now are delivered directly to each of the stage's PA's or out to the delay tower systems that populate each of the event'sseven stage locations.
'We're extremely happy with the capabilities of Newton now, and we have been contributing ideas, requests for future capabilities and Jeffrey [Cox] and Jason [Farah] have been extremely focused on seeing that our input is included in its relevant development roadmap,' says Rat Sound owner, Dave Rat.
'We knew what an asset Newton could be to Rat Sound's portfolio of products and services,' reports Outline US's Jeffrey Cox. 'The collaborative efforts between Jon, Dave and the Rat Sound Family of Technicians and Engineers has been a rewarding and productive enterprise. Rat's input has been invaluable in allowing us to further Newton's technical capabilities now and with a nod to the future'.
See also: