At five years old, Gathering Church in Fort Walton Beach, Florida, claims to be 'progressive and authentic to its core'. With and contemporary music played live at high volume, the church has attracted more than 200 congregants, many from the large (and rotating) military community in Fort Walton Beach. With its growth came a move to a larger space – and the opportunity for Lambda AV to fill that space with high-impact music and intimate, intelligible speech using Danley Sound Labs systems.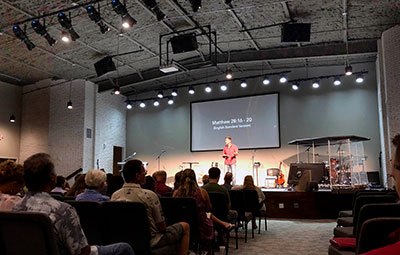 'Gathering Church seized the opportunity to move into a large warehouse space – enough for nearly 400 seats and the growth it expected in the coming years,' explains Lambda AV owner, Ryan Durbin. 'It's a big, boxy, reverberant space with a metal corrugated ceiling and plenty of dry wall. Although there wasn't a big budget for sound deadening, the ceiling was covered with some insulation and carpet and seats were installed… but that's it.
'Our job was to work with that reverberant space and make it sound awesome on a tight budget. And when I think of awesome sound on a budget, I always think of Danley. On this budget, we were able to go from the wood enclosure SH-Series to the moulded enclosure SM-Series and save even more, while still sounding great. Gathering Church didn't have a lot of money to work with, but they definitely wanted a real, professional-grade sound reinforcement system that would last a long time into the future.'
Durbin cited Danley's low-frequency pattern control as a huge asset in a big reverberant space surrounded by sheetrock walls. He worked with Danley's engineers to finalise the design, both in terms of model selection and positioning. He submitted a CAD of the room through the area Danley representative, Noel Darby of Darby Reps, and got help from acoustician and Danley engineer Doug Jones.
'After we had things worked out, the church came back to us and suggested taking 16 inches off the stage to include another row of seats,' Durbin recalls. 'That was maybe a bigger deal than I though it was, but it turned out not to be. The folks at Danley helped us adjust the angles a little bit and add some front fill. The church also revealed the existence of two support beams after the initial designs were done, which we handled with a couple of delay fills.'
Three Danley SM96 loudspeakers cover the larger part of the room as an exploded mono cluster. 'We hung them using the Danley yokes, which was a super easy process,' Durbin explains. 'They're within an eighth of an inch and one degree of the plans, and they sound great. The room has no dead spots, and we were surprised to walk the room and find the seams – positioned on the aisles – had zero phasing. Even the aisles sound great.'
Four Danley SHmini loudspeakers provide fill at the front of the stage on the support poles, and Durbin scrapped plans for two TH118 subwoofers to make up the budget difference for the additional SHminis. Linea Research amplifiers with integrated DSP power the system.
'With other companies, fill speakers are always a compromise, but the SHminis sound fantastic,' he says. 'And everyone agreed that we could get away with just one TH118 subwoofer. Now that it's installed, I completely agree: one TH118 fills the room beautifully. The low-end response of the entire system is excellent.'
'The installation was straightforward and matched the predictions we had from the Danley Direct modelling software,' Durbin says. 'That's especially important in a situation like this, where we drove from Colorado to Florida – we didn't have to spend hours we didn't have messing around with positions and trying to make things work. And, of course, folks from the church were wandering in and out throughout the process.
'The worship pastor was there the first time we fired things up before there was any processing on anything. That's an important moment; it's the first impression and, with non-Danley systems, it was always kind of awful to have to explain away their disappointment with the promise of adjustments to come. At Gathering Church, the system sounded fantastic immediately. The worship pastor was blown away, and it's only going to get better from here.'
More: www.danleysoundlabs.com