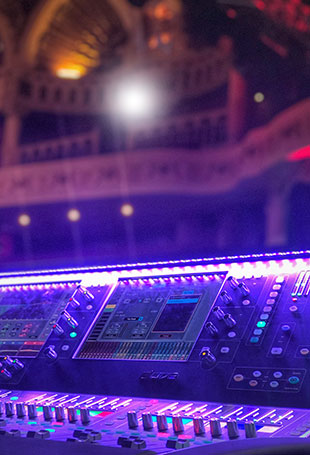 Stylus Productions recently purchased an Allen & Heath dLive FOH/monitor package from Autograph Sales & Installations.
'We were becoming more aware of the increasing popularity of the dLive series consoles within the touring market, having seen them crop up on artist riders more regularly as well as hearing anecdotal feedback from engineers,' say Sam Thomas and Oliver Weeks, Co-Directors of the Southwest London-based company. 'So, when a new client, namely Dean Lewis, came to us specifying Allen & Heath we were happy to use that as the springboard into our first investment in dLive consoles.'
Comprising two dLive S5000 control surfaces plus DM48 and DM0 I/O racks, the new equipment is being immediately put to use with Australian singer-songwriter Dean Lewis, as he sets out on tour in the UK and continues throughout the year across Europe.
'We've elected to go for a core system of S5000 control surfaces with a DM48 MixRack because we feel – as did the project's engineers – that it affords a great balance of size and functionality. The addition of the DM0 not only provides redundancy, but good levels of independent control for both FOH and monitor engineers to do their thing.
'As with all consoles in our inventory, we like to ensure that they can meet the requirements of our clients no matter what the circumstances, which is why from the get-go we decided to expand the system with optical fibre capabilities and Waves networking options. The OpticalCon protocol fibreAce cards will enable this and other projects to take their system right up into arenas and onto large festival stages without concerns over multicore lengths or signal quality issues.'
'The Dean Lewis project is at a level where it requires the right solution for both the scale of project and the size it's rapidly becoming with his rising stardom,' Thomas continues. 'We feel that we've been able to hit the nail on the head with the ideal solution for the show right now, whilst retaining the headroom for further growth and expansion over the coming months, and without having to change boards.'
Both Thomas and Weeks are also looking at the long-term investment potential of the new consoles: 'As ever, the target point is great sound at the right price for the project and the Allen & Heath dLive is ticking those boxes very well. We already have the boards booked out from now until November on a couple of different projects and with very little downtime, so we're already seeing them make a valuable contribution.'