Located in Manhattan's Hell's Kitchen, The New York Beer Company is a popular after-work and evening hot spot for food, drink and fun. Open from 11am until 4am in the City That Never Sleeps, it boasts 27 video screens; a full bar with seasonally fresh cocktails, spirits and more than 100 beers; and serves an assortment of pub food, pizzas, burgers, and vegan and vegetarian dishes and can be booked for private parties of up to 300 guests.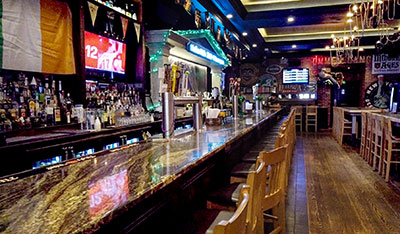 Recently, the venue added live music on Monday and Saturday nights and, while the existing sound system was mostly of good quality, the digital signal processor in use lacked the dynamic range required for live music. After consulting with Cardone, Solomon & Associates, contractor Starview Satellite Corp replaced the processor with a Symetrix Radius 12x8 EX, as well as a Crestron touchscreen for system control.
'The New York Beer Company is a multizone venue – there's a main bar area, which is fairly extensive [more than 40ft-long] and encompasses a parallel dining area,' says Cardone, Solomon & Associates' Richard Trombitas. 'There's an area that is used for private parties and individual events, and there's a separate dining area that looks out on 44th Street.'
The Symetrix Radius 12x8 makes it straightforward to manage the various zones, routing and processing audio and setting levels as needed.
Symetrix Radius DSPs offer 128 (64x64) Dante channels for ultra-reliable multi-channel audio networking over IP. The Radius 12x8 EX model installed at the New York Beer Company sports 12 analogue inputs and eight analogue outputs, and more analogue I/O can be added using expansion cards. Radius' embedded web server displays I/O levels and diagnostics data.
As part of the upgrade, Trombitas notes: 'An Ashly digiMix digital mixing console with a Dante output bus was installed; all the live music feeds digitally to the Symetrix processor.'
As important as the Radius' routing, processing, Dante connectivity, and ease of programming are, it's the sound quality that really grabs people's attention at the New York Beer Company. 'The incorporation of the new Symetrix Radius 12x8 EX for signal processing improved an already good sound system that was in place,' Trombitas says. 'Many people thought more of the sound system had been replaced or upgraded, when in fact the only change was the addition of the Symetrix Radius.'
More: www.symetrix.co