Counting various Gears of War titles and Dirty Bomb in an extensive portfolio of work, UK-based sound designer and field recordist Mattia Cellotto is currently producing a library of sounds containing frequencies typically undetectable by the human ear. This mission includes capturing the squeaks, chirps and hoots of bats, birds and monkeys, with JoeCo's Cello interface providing the means of making the recordings.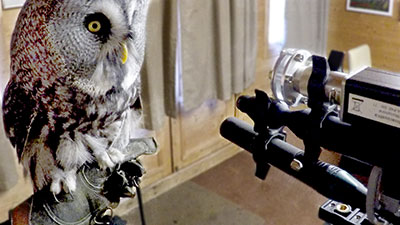 Cellotto presently works for Criterion Games on high-profile projects including Battlefield V and Star Wars Battlefront II. He is also a freelance field recordist, currently working on the second chapter of his Animal Hyperrealism sounds collection, calling on the 'exciting capabilities' offered by the Cello interface.
The library encompasses the calls of a wide range of wildlife, from the sweet and fluffy to apex predators – fruit bats, lemurs, leopards and birds such as parakeets and owls – which Cellotto says are particularly interesting due to their unique ultrasonic potential. Dealing with sounds that transcend the human auditory range obviously posed challenges, and finding a suitable audio solution was no easy feat.
'I was looking for an analogue to digital converter that would sample at 384kHz, so I could record up to 192kHz, which sounded pretty fun,' he says of his adoption of JoeCo's Cello. 'I could find a few, but they didn't feature preamps, so I'd have needed an external one and that seemed like an expensive and cumbersome option. Suddenly, I found this UK company located 90 minutes from me and their products have the capabilities I needed, whilst being affordable. It was JoeCo of course.'
The Cello was used for Animal Hyperrealism Vol II with the most recent project involving Cellotto recording fruit bat pups roosting in a cave: 'I used the Cello alongside mics that are specifically designed to capture ultrasonic sound up to 200kHz. I connect it to a Fusion 5 tablet and record everything at 384kHz with Reaper – that's pretty much it.'
The Cello has allowed Cellotto to stretch the limits of recording and was the only product of its kind: 'For me, there's one thing about the Cello that is very objective,' he says. 'It's the only piece of equipment that acts as a preamp and ADC at a price that you would normally pay for either of the two things [featuring 384kHz recording]. It's a first. There are mics out there that can do interesting things but are currently limited by preamps or more often ADCs. It's pioneering and it gives me an edge.'