Located in Székesfehérvár, Hungary, MOL Aréna Sóstó (MOL Arena Salt Lake) is among themost important stadiums outside Hungary's capital, Budapest. Having recently undergone a full rebuild, the multi-purpose stadium continues to be home to the MOL Vidi Football Club, and is primarily used for football matches.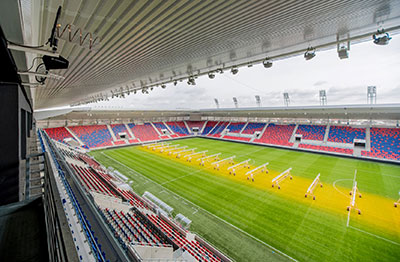 Specialising in the design and installation of sound, light, visual and control systems, the Interton Group was commissioned to design and install the audio system for the new stadium. With extensive stadium sound experience, the company used acoustic modelling to prove a design based on Community R Series loudspeakers as the optimum solution.
Sixty-four Community R.5HP loudspeakers, flown in pairs under the leading edge of the canopy, cover the stadium's four seated stands that combine to give a 14,201 capacity. The R.5HP is an ultra-compact three-way horn loaded weather-resistant loudspeaker system, engineered to provide maximum voice intelligibility and high-quality music. A single high power Community RSH-462 exponential FocusedArray horn system is located in the stadium's northwest corner to cover the playing field.
Operated from a Yamaha TF3 mixer, the system is controlled by QSC Q-Sys via a graphical user interface, custom designed by Interton. QSC CXD-Q amplifiers were chosen to drive the Community loudspeakers, with input from Shure ULX-D wireless microphones.
'We provided wireless iPad control of the whole audio system, so system adjustment can be made from any location and even while walking around the grandstands – it's an added feature that the system operators are extremely happy with,' says Interton Group Managing Director, Géza Balogh.
'By combining Community's non-metallic diaphragm UC1 HF driver with the M200 midrange driver coaxially within the mouth of the 12-inch LF horn, the R.5HP is an extremely powerful tool for voice announcement systems. The M200/UC1 combination provides effortless voice-power with HF sparkle that must be heard to be appreciated. In addition to flexible control, the main requirements for MOL Aréna Sóstó were the SPL and STI values and the installed system outperforms both of the specified parameters.'