SMPTE has 'reimagined with a fresh style, focus, layout, programme schedule, logo, and website, the SMPTE 2019 Annual Technical Conference & Exhibition,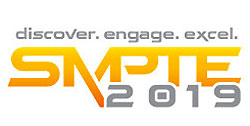 'We've updated and restructured our annual conference at every level so that it's easy and enjoyable to discover, engage, and excel,' says Executive Director, Barbara Lange. 'We're bringing the conference and exhibition elements together to create a richer and more interactive atmosphere for attendees. In addition to making the educational experiences more engaging, we'll be hosting various networking and social events throughout the conference.'
SMPTE 2019 will showcase technology and offer education and professional development opportunities to help attendees increase their personal and professional value within the media and entertainment industry. It is aiming for a 'more focused combination of submitted and programmed content to address the needs and interests of both experienced creatives and technologists as well as early career professionals'.
On the first day of the show, the latter group can attend tutorials that will lead to in-depth sessions later in the week. Through a series of brief presentations, industry thinkers and doers will share their insights and anecdotes on motion-imaging technology and future directions in a non-commercial setting.
The exhibits and special events will create an enhanced experience for attendees, providing opportunities for networking and face-to-face meetings with industry experts.
Extended lunch breaks each day will take place on the hotel's rooftop venue. Attendees looking for more sunshine and fresh air can take part in the second annual 4K 4Charity Fun Run. Pop-up happy-hours and featured exhibits in the conference foyer will allow for impromptu gatherings.
'As always, SMPTE technical conference sessions will address timely, forward-looking topics like no other event in the industry does,' said Education Vice President, Sara Kudrle. 'From the fundamental elements of cinema and broadcast workflows to the latest in immersive experiences, SMPTE 2019 will offer expert insights on the technologies driving the future of storytelling.'
The Society's flagship event, SMPTE 2019 will run between 21-24 October at the Westin Bonaventure Hotel & Suites in downtown Los Angeles. Full conference registration includes keynote presentation, entry to the exhibition and to all conference sessions, a rooftop lunch each day of attendance, and an opening night party.
More: https://2019.smpte.org