Long Island-based Taylor Productions has taken an EM Acoustics Halo-A line array system – the first to be delivered in the US.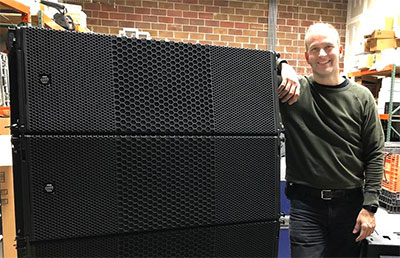 Taylor Productions is a full-scale production house that offers sound, stage, lighting and video services throughout the region. Twenty years ago, owner Bill Taylor purchased a sound system for the band he played in and the company was born. In 2017, Taylor Productions started investing in EM Acoustics with the purchase several EMS-129 and EMS-61 two-way loudspeakers and EMS-115 subwoofers. Shortly after, EM Acoustics announced the development of Halo-A and Taylor was on board as the first owner of a system in the US.
'We are looking to expand our customer base and provide services nationwide,' explains Taylor. 'The connections we have made over time and the opportunities that were presented to us in Q2 of last year made it make sense to invest in a system that could handle national tours and large arenas – which led us to the purchase of the Halo-A. We had used the more compact Halo-C a few times last year and knew that a bigger version would be exceptional.'
The new system comprises 16 Halo-A modules, six MSE-218 ground and six MSE-218F flyable subwoofers. The Halo-A follows the core design of the more compact Halo-C, with EM Acoustics 'maximum headroom' design approach. The compact and low weight translates into less truck space used and smaller motors required.
The element uses a proprietary emulation manifold thatcombines the energy of four 3.4-inch diaphragm, 1.4-inch exit compressions drivers into a plane-wave array. This assembly gives not only a significant moving area for the high frequency section but also provides twice the headroom of comparable systems.
The HF section is flanked by a pair of high power 3.5-inch voice coil, 12-inch neodymium low frequency transducers. These two drive units combined with tuned low turbulence porting and generous cabinet volume ensure. A single Halo-A exhibits a flat, free-field frequency response from 48Hz to 19kHz (±3dB) and a phase response which is ±20° between 150Hz and 18kHz. Due to the loading of the low frequency drivers and high frequency waveguide, the dispersion pattern control is maintained down to 250Hz. Taylor powers the Halo-A system with EM Acoustics' FIR-enabled DQ20 advanced system amplifiers.
'The new wood wave guide produces HF frequencies with astounding clarity,' he says Taylor 'When we heard the Halo-A it sounded so intimate – almost like a conversation – but much, much louder. It sounds the way music is supposed to sound; how a studio engineer would like his mix to sound in a live environment. I am confident it is going to set the bar for arena line arrays in the States.'