Old Barn Audio (OBA) has completed a large sound installation in the upmarket Cheltenham No 131 Hotel complex, using a Martin Audio CDD solution.
Owned and operated by The Lucky Onion Group, the hotel is a classical Georgian townhouse on Cheltenham's Promenade. The work conducted by OBA was carried out in three separate stages.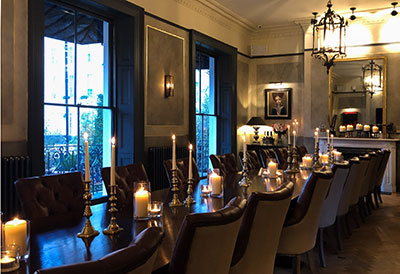 According to OBA Director and Project Manager, Phil Clark: 'The facility already had an effective sound system installed within the hotel, but the client wanted some weather resistant speakers situated outside the front of property.'
His solution was to specify four Martin Audio CDD8-WR, the manufacturer's weatherised version of the hugely popular CDD Coaxial Differential Dispersion range.
At the same time, the former Crazy 8's Bar – originally fitted by OBA in 2018 with an array of eight CDD8 and two Blackline SX210 – has now been rebranded as the deluxe Gin & Juice Bar brand. Incorporating a restaurant, the clientele expects exceptional sound quality, whether background or live, and OBA responded by fitting an extra four Martin Audio CDD6 loudspeakers, along with three further CDD8-WR weatherised speakers for the entrance foyer.
In No 131 Hotel, a further four CDD8-WR can be found – but the piéce de resistance is new The House. Home to eight individually designed bedrooms, a sun terrace complete with Victorian-style glass house bar, and a number of unique event spaces, this newly redeveloped Georgian townhouse, with room for up to 150 guests, can also be used as a Cotswolds wedding venue. Here OBA installed a total of eight CDD8, four CDD8-WR, six CDD6-WR, a pair each of CDD5 and CDD6 and a pair of Martin Audio Blackline SX210 subwoofers.
'In our opinion, the new CDD and WR variants are the best-sounding and best-priced speakers on the market today, so why choose anything else? Clark asks. 'The WRs were used in all outside zones – including the flowerbeds. Being one of the top three pro audio brands on the market today, Martin Audio and CDD offer quality, clarity and kudos at very good prices – something that resonates with our customers.'
Having three dedicated zones (No 131, The House and Gin & Juice) the client wanted all areas to talk to each other, and have any input routed to any zone. Hence an electronics upgrade was required to ensure signal transport over a Dante backbone between the buildings, with all three areas networked for control via a dedicated VLAN on the existing Wi-Fi network.
'Being the head of production for the Lucky Onion Group the task is mine to make the sound throughout the venue world class,' Butcher says. 'Where better to start than with Martin Audio?
'I was directed to Old Barn Audio and found the team to not only be professional, reactive and knowledgeable but easy to get on with. And when faced with a complex multi-zone and input matrix you need a team that you can work well with, making the difficult, easy. The end result is that we have been left with a sound that reflects the amazing environment in which it sits.'