With a change of frequencies to Europe's 4G network, Utrecht University – one of the oldest and best respected universities in the Netherlands – looked to integrator JNV and A/V specialist distribution company Output for help in updating its audio equipment system.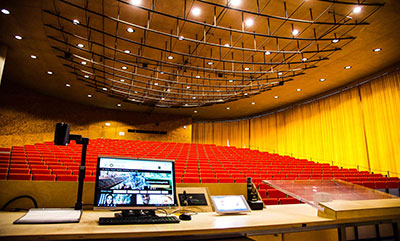 What followed was an ambitious three-year audio installation of Shure equipment, with ULX-D Digital Wireless systems deployed across three main areas – the Utrecht Science Park/De Uithof, the University Quarter in Utrecht's city centre, and the International Campus Utrecht (ICU). With more than 29,000 students, 5,500 faculty and staff and 100 buildings, including 45 buildings used for educational purposes and lecture halls, updating the audio equipment to a digital system that delivered audio clarity, with flexibility and ease-of-use was essential.
'The new system offers us greater performance in terms of the amount of microphones in use under the new bandwidsth restrictions brought in by the recent changes,' explains University AV Domain Specialist Peter Janssen.
'Utrecht University has around 90 microphone systems in use across the campus – a mixture of handheld, lapel, podium, head-set and radio mics,' JNV Digital Architect, Jan Zwanenberg, elaborates. 'Because of the amount of microphones, we needed a system that could provide a lot of channels into the restricted bandwidth available. Peter and I spent a long time discussing what kind of solutions were needed to provide the perfect learning environment for all of the students and lecturers.'
Actual numbers of equipment used across the campus reflect the challenge of managing channels within a restricted bandwidth – 86 ULXD4 receivers, 103 ULXD1 bodypacks and 14 ULXD2 handhelds. With such a demanding audio requirement, having the ability to test the systems before integration was a bonus, with A/V specialists Output having the facilities in place for hands-on demonstrations ahead of purchasing.
'Output provided great support throughout the project, allowing us to test systems and ensure they would perform on site within the University,' Zwanenberg says. 'We quickly realised that the old system in place would not be sufficient with the network change, and conversations with Output led us to look at the Shure system, which was of immediate interest to us as being a totally digital solution.'
'Shure has a reputation for being a market-leading audio brand, so we felt that the decision for us to change to a ULX-D digital system wasn't a high risk at all, and in fact, provided much greater benefits than the existing system,' Janssen says.
With distance learning and lecture capture a basic requirement in the modern educational environment, clear sound reinforcement and speech intelligibility has become increasingly more important: 'Good sound comes from the source, which means having the best microphones in place to capture audio, ensuring a high quality educational experience and enhancing the students' learning process,' Janssen says. 'The Shure system provides us with a flexible, stable solution to continue to offer the best possible learning experience to all our students across the university. Our academics also appreciate the ease of use when switching systems, from lapel to headset microphone. It's a straightforward process which works perfectly and means there's no lost time within the classes.'
Having had the Shure systems in place for 12 months, both Janssen and Zwanenberg are pleased with the decision to upgrade: 'Students and lecturers are benefiting from superb audio clarity,' Janssen reports. 'Our technical team is also very pleased with the stability and performance of the microphones, along with the superb performance of the accus that charge the batteries to full capacity within three hours.'
'ULX-D is now the new standard at the university,' concludes Zwanenberg. 'Each microphone system is totally reliable and works perfectly depending on the needs of the room.'
More: www.shure.com