One of the most famous events in the UK horse racing calendar, the 2019 Cheltenham Festival saw Unique Sound Systems (USS) field upwards of 100 Martin Audio loudspeakers throughout the event.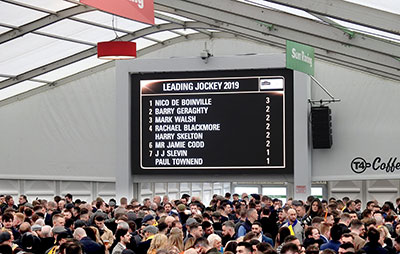 The Jockey Club turned to regular sound and lighting supplier, USS, to fulfil the event brief, which – in addition to the many regular venues and pop-ups on the site – included a new venue, the prestigious Gin and Jazz Lounge. The Lounge would need feeds divided between live racing commentary, background music, DJ performing on a pop-up pod and live jazz bands.
USS has been fielding successive generations of Martin Audio solutions for 16 years, deploying everything from the new compact Adorn series through XD12 up to the new Wavefront Precision (both WPC and WPM systems) in 2019.
The Cheltenham Festival was one of the first deployments of Martin Audio's Adorn A55, with four speakers in the Magners Bar and six in the Gin and Jazz venue, where they were accompanied by six Martin Audio XD12 and four SXP118, handling the live inputs.
'Adorn is a compact box with exterior options which are easy to wall-mount, and since it is available in white, it blends easily into the surroundings,' says company Director, Mark Salter. 'In addition, it offers excellent clarity and is ideal for this application.'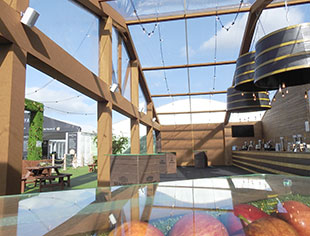 In the Best Mate Marquee USS flew WPM boxes in two hangs of six (using two-box resolution) with two further ground stacked arrays (in single-box resolution) left and right of the performance stage situated in the centre of the marquee. SXP218s per side boosted the low frequency and LE1200 monitors were used by bands such as Tommy and the Fuse and The Wickermen. Power was supplied by Martin Audio's iKon iK81.
USS system engineers used the Hard Avoid setting in the proprietary Display software to reduce the noise spill outside of the marquee, to prevent the sound reaching the adjacent stable block.
The largest fixed venue on site, the multipurpose Centaur venue, required the larger Martin Audio WPC system. This venue was heavily patronised by visitors post-race and on into the evening with entertainment in previous years from artists such as The Dubliners, The Fureys and The Hothouse Flowers. Here, USS used six ground-stacked WPC per side of the performance stage in 1-box resolution all driven off the iKon iK42 and boosted by SXP218 subs.
The party atmosphere was maintained in The Final Flight Bar (another post-race venue) where USS fielded a pair of Martin Audio Blackline+ H3, with a pair of WS218X subs for up to 300 people enjoying entertainment from artists such as The Chipshop Boys and The Wickermen.
Salter reports that, with 260,000 people attending over the four-day festival, his team used their considerable Martin Audio inventory to deliver an exceptional event: 'We were delighted with the result. All systems worked perfectly and we achieved uniform coverage throughout.'
More: https://martin-audio.com