Audiovisual integration company Disco Doctors recently completed an installation at the Albion Hotel in the south of Melbourne using a Martin Audio CDD solution.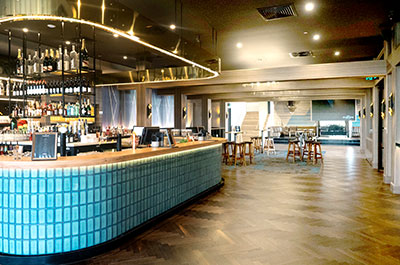 The equipment was supplied by Technical Audio Group (TAG), Martin Audio's long-term Australia distributor, with whom Disco Doctors has also enjoyed a partnership stretching back eight years. 'Prior to that myself and my business partner had worked in many other various areas of the audio industry so my experience with Martin Audio dates back to the early club systems from the 1990s,' explains Disco Doctors' Justin Mackay. 'Since we started Disco Doctors we have used Martin Audio on many of our projects.'
As larger club installs made way for smaller multipurpose venues and bars, versatile and quality distributed sound assumed paramount importance 'both for their patrons enjoyment of the space as well as suiting the venues' requirements to go from busy bar/restaurant to night club on the fly. CDD has more than delivered on this,' Mackay says.
'This project was originally a complete refit of an existing venue with a new rooftop extension and we had specified a full Martin Audio series system for the venue,' he continues. 'Unfortunately, there was a fire at the venue just prior to the project's completion. Making matters worse we had just delivered most of the main room audio days before the fire destroyed the place. It is a testament to the owner's determination that the venue rose from the ashes bigger and better than it would have been before.
'Our favourite feature of these boxes is the excellent close-field off-axis response, giving a comprehensive coverage in rooms that typically do not have a single point source for audio.'
These zones included a reception area, main bar and dancefloor, with booth seating and VIP spaces, a dedicated VIP lounge, rooftop bar with DJ's, outdoor spaces and bar area. All of the primary spaces use Martin CDD boxes and subs, the smaller areas equipped with the ultra-compact CDD5s with CSX112 subs concealed in wall cavities and furniture.
The dancefloor in the main room uses two CDD12s either side of the DJ, a pair of CSX212 dual 12 inch subs built into the DJ console, CDD8s for fill on the dancefloor and CDD5s for bar and booth fill with CSX112 subs to fill the back of the room. The VIP lounge runs CDD5s with CSX112 sub. The rooftop, which is mainly an outdoor space, runs CDD5s and CSX112 subs.
'We had to work with the architect and owners to have audio seamlessly integrate with the décor but with such compact boxes this wasn't difficult,' Mackay says.
Disco Doctors conducts its own system design, software development and system EQ, and all systems offer clients convenient iPad control as well as hard-wired wall controllers. Consequently, the venue can run live music and corporate events on either level, as well as DJs and PC-based background music during the day — all of which comes from a central rack in the office area.
'The audiovisual component is extremely important,' Darcy says. 'We've used Disco Doctors on a number of previous projects and we've always used Martin Audio sound systems. I think there's an increasing level of appreciation for good sound by clubbers. It's something you certainly don't want to skimp on and we invest a lot of money in our audio and visual systems because it's such an important component of the business we're competing in. Martin Audio has been great in creating that product and that vibe we look for here.'