A five-month tour taking in Austria, Belgium, Germany, Scandinavia, South Africa and Switzerland has seen Belgian tenor Helmut Lotti take Yamaha's PM7 mixing console 'global' as part of a Nexo sound system supplied by rental company Revolution Event Support.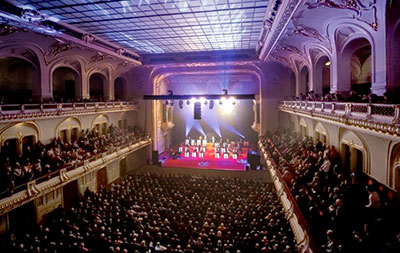 Promoting his latest album Soul Classics In Symphony, Lotti is backed by the Golden Symphonic Orchestra – a 22-piece band, including string and brass/woodwind sections, piano, two guitarists, bass guitar, drums, percussion and backing vocalists.
The tour's production manager and FOH engineer – and Revolution Event Support owner – Bart Faut specified a Rivage PM7 monitor console, with a CL5 mixing FOH sound. I/O is taken care of by Rio3224-D2 and Rio1608-D2 racks. The Nexo PA is a mixture of flown and ground-stacked Geo-S12 and Geo-M6 with LS18 and RS18 subs, powered and managed by NXAmp4X4s and NXAmp4X1s.
'When we were planning the tour we felt it was better to have everyone on in-ear monitors. However, the number of stereo mixes needed was greater than the 32 busses of a CL5,' Faut says. 'I discussed this with Yamaha's Stef de Pooter and he told us about the Rivage PM7, which at that time was under NDA. We were immediately convinced about what it could do for us.
'I have always been a big fan of Yamaha consoles – we still have a PM3500 in the warehouse. With plenty of busses for the in-ear mixes. the Yamaha sound quality, ease of use and reliability, we knew that the Rivage PM7 was the console we needed.
'It is the ideal monitor console for this production, thanks to the large number of inputs, the amount of monitor sends and its seamless compatibility with Dante, our R-series I/O racks and CL5 at FOH. The onboard plug-ins are perfect for providing each performer with a very comfortable sound.'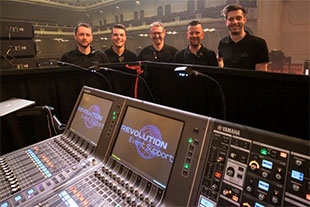 Lotti is meticulous about the quality of his in-ear sound: 'He absolutely loves the sound,' Faut confirms. 'With a Yamaha console on monitors, he's always confident that it will sound like he wants it to, but the PM7 has raised the bar even higher.'
The tour has been monitor engineer Kristof Haagdoren's first experience of Rivage PM7 and he found it a very straightforward console to learn. 'I love the PM7's sound quality and ease of use. Having eight inserts per channel make it very flexible and copying mix busses with or without sends comes in very handy for mixing monitors,' he says. 'The built-in FX-racks are very good and I really like the onboard compressors. Of course the Rupert Neve Designs SILK emulation is sublime and pleasingly subtle.'
At FOH, the CL5 is ensuring that Lotti's voice sounds warm and natural: 'We try to make as broad a sound as possible, where each instrument has its place and is sufficiently transparent, but with an overall fairly low volume for Helmut's audience, yet without sacrificing the intensity and experience of the show,' Faut says.
For the Hamburg show, limited flying limits meant that a special PA set-up was necessary, comprising a centre cluster of Geo-S12 and an LS18, flanked by flown Geo-M6, with groundstacked Geo-S12/LS18. This highlighted how versatile the tour's audio package needed to be.
'Hamburg was a typical example of why we need a very flexible system. The Yamaha/Nexo combination allows us to create the ideal sound plan to guarantee 100 per cent coverage of the audience, which can be different in every venue,' Faut says.
Another important factor on the tour is how straightforward the system is to set up and, crucially, being able to rent equipment locally, if needed.
'Thanks to the Dante network, it's easy to route multichannel audio around the venues without having to worry about timing or network issues. It just works. We go from console A/D to the NXAmp inputs fully within Dante, which makes a huge difference in sound quality and ease of use,' Faut says. 'Yamaha and Nexo are also a safe bet for local rentals, which makes it easy for us to add extra equipment if we need it.'
More: www.yamahaproaudio.com