The key venue of Singapore's Star Performing Arts Centre, the 5,000-seat The Star Theatre, serves a wide range of amplified music and speech events, as well as large-scale corporate meetings and pop concerts. Key to its operation are Waves SoundGrid Servers, MultiRack and the SD7 Pro Show bundle.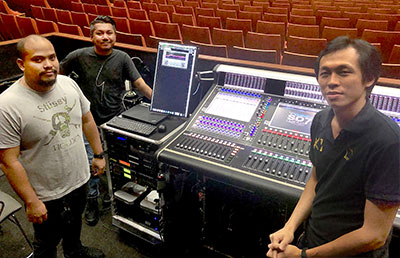 'Our default theatre console system consists of three DiGiCo SD7 Quantum consoles for monitors, FOH and broadcast/recording,' explains Head of Audio, Reuben Ong. 'At each of the SD7s, there is an engine-based redundant system for Waves controls and processing.
'On each console, both engines are connected to two Waves Extreme Servers and two host computers for the MultiRack Application [Apple Mac Minis through a gigabit network switch]. Configuration is such that each SD7 engine is connected to one Waves Extreme Server and one Mac Mini for controls. A 24-inch touchscreen monitor is used with both Mac minis by means of a KVM set-up. Currently, we are using the Waves SD7 Pro Show plug-in bundle for all of the SD7s.
'We started off using Waves in 2013, a few months after our opening, and we were using the SoundGrid Server One for a long time,' he continues. 'However, with the changing requirements of our anchor tenant and the incoming shows and events into our venue, we have seen our Server One processing being stretched to its capacity. The Waves Extreme Servers are the next phase of upgrade that allowed us to cater to the requirements of all our end users. Our team of casuals has also seen better faster processing and more stable operations with the new Extreme servers and are very happy with the performance.'
Of the Waves MultiRack and plug-ins, he says: 'It is the most straightforward software for using Waves plug-ins for live events. In addition, the auto delay compensation function of the software allows for a coherent transfer of digital audio across all of the channels. The remote function between multi-rack and the SD7s also helps in ensuring that shows are in sync from console to Waves control. We faced some initial difficulty in moving from the previous SD7 on desk Waves MultiRack to the current external control set-up, but those problems are mitigated with some testing.
'My team and I have been Waves users since the early SoundGrid licence days, and we have purchased the license as part of the venue's original SD7 package. Over the years, the upgrades given through the Waves Update plan have kept the SD7 Pro Show bundle relevant, and it has been serving our purposes. Our theatre has events of many different nature, from rock concerts to pop orchestras and corporate talks, and also theatre and dance. We have depended on different Waves plug-ins for different purposes.
'The main plug-ins that we have used extensively for our meeting events are the Dan Dugan Automixer and Dugan Speech. This is especially useful for company AGMs, where we see about 30 microphones on stage for the board of directors and more mics on the audience floor for Q&A sessions. It eases the engineer's work in managing a large number of open mics. The Dugan Automixer plug-in has been effective in managing feedback and for balancing levels for many conferences, and drama skits at The Star Theatre. The IR-Live Convolution Reverb is also a plug-in that is heavily used by my team. Coupled with the impulse responses from various other halls and boutique reverb units, it enables very creative and great sounding reverbs to be created in our theatre. The SuperTap gives much more flexibility in terms of control to any onboard delay for vocals, and I personally have a positive bias towards the output of the six-tap delay. The C6 and C4 Multiband Compressors are my personal favourite due to the flexibility in shaping vocals and the output being very transparent. InPhase is also a tool that has been really useful when we have bands in, especially for managing Kick and Snare drum mics. This has helped my team to do accurate alignment between the multiple mics used with ease. Another common plug-in that we have used is the WLM Plus Loudness Meter and VU Meter, to give us an accurate reference for our recordings and also our clients' broadcast requirements.
'Using Waves has made my team's mixing experience very enjoyable and has given us many more options for creative expression in our daily work,' Ong reflects. 'The support from Team108 Technical Services in maintaining proper integration of the Waves system to our DiGiCo consoles has also made our show operations much smoother. Many of the touring engineers are stoked that we have Waves readily available for their shows.'
More: www.waves.com