Founded in 1825, Jacksonville is among the oldest towns in the Land of Lincoln. From its earliest years, it emphasised education, and today it is home to two four-year colleges, a community college, the Illinois School for the Deaf, and the Illinois School for the Visually Impaired.
A small brick church built in 1851 was the first home of Jacksonville's Catholic Church of Our Saviour, followed by a new building in 1868. The current church – modelled on the Basilica of San Vitale in Ravenna – opened in 1977.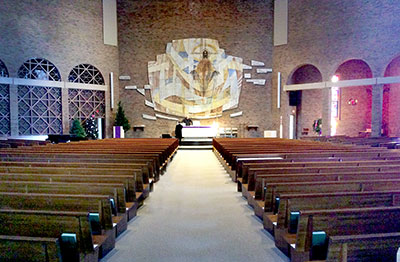 The adjacent Our Saviour School is the home of the Illinois School for the Deaf, so the parish is especially sensitive to the needs of the hearing impaired. Recently the church sanctuary was remodelled, including a new sound system designed by independent acoustical engineering firm Designed Acoustics of St. Louis and based on Renkus-Heinz Iconyx Gen5 digitally steered arrays.
'Since the church was built, they've fought with intelligibility of the spoken word,' explains Designed Acoustics President and Senior Engineer Kevin Tankersley, who designed the new system. 'They've had four or five sound systems, including the traditional cluster hung up high and, most recently, a distributed system of small speakers mounted about eight feet up, all the way around the room. Nothing worked; they still had poor speech intelligibility.'
Graham & Hyde Architects, which oversaw the remodel, hired Designed Acoustics to recommend a solution: 'The church is shaped in an octagon and made of solid brick,' Tankersley explains. 'The walls are 40ft high, the centre peak is about 48ft high, and there are only a few windows on the upper edge of the walls. It seats about 900 people. The choir is on the floor, there is no loft, it's all one level. As you can imagine, we had to keep the sound off the brick in this towering octagon. Also, they only have live music; they don't allow taped or recorded music. They have a small choir, a piano, and a pipe organ, and they occasionally have guitarists. So we didn't want to deaden the room but we did need to condition it.'
A large part of the solution is the use of Renkus-Heinz Iconyx steerable loudspeakers: 'We needed to fix the room, even if we used a steerable array,' Tankersley says. 'We had to soften up some of that surface. There would normally be aesthetic issues with treating the room but after struggling with intelligibility for years, they wanted it fixed, even if it meant an unconventional look.'
Designed Acoustics made three acoustical models of the room: 'The first had a lot of acoustical treatment and a conventional sound system that would be better than the old system but not a true fix,' Tankersley says. 'The second had a little less acoustical treatment and a line array for a little more focus but not as steerable as a Renkus-Heinz array. The third and best option was the Renkus-Heinz Iconyx system. We told them the Iconyx system is highly steerable, so we can dictate where the sound is going to go, and we'd only need a little bit of acoustical treatment in the correct places-and the room would be wonderful. This was the best scenario. We showed them in a graph what the sound and reverberation time would look like, and they chose the Renkus-Heinz system.'
More: www.renkus-heinz.com