Often referred to as Sciences Po, the Institut d'Etudes Politiques de Paris is a highly selective university operating seven campuses across France. The new Grand Auditorium at its Reims site continues its theme of excellence by featuring an Alcons Audio system.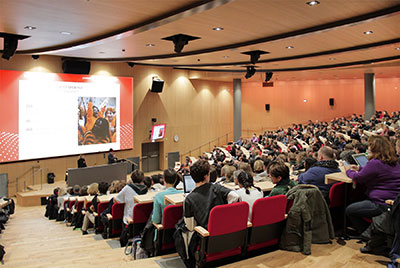 Founded in 1872, Sciences Po quickly became a highly influential academic institution for the social sciences. Currently it has 13,000 students across its seven centres. The Reims campus opened in 2010, with just 100 students, but a recently-completed €75m expansion has meant it will be ready to accept 1,600 students in September 2019. A major part of the project is the new 650-seat, multi-function Grand Auditorium, which hosts conferences, lectures, presentations by guest speakers, live music and movies in 5.1 surround sound.
Alcons systems can be used in multi-function rooms to address all of the contrasting requirements of sound reinforcement and cinema. At Reims, a 5.1 Alcons system was supplied by Paris-based systems integrator Audiolead and installed by Videlio of Reims. It features a left-right system of three RR12 point source array modules per side, with a pair of QB363 modular low-frequency array columns beneath the stage and a centre cluster comprising two CRA24 Cinemarray scalable, medium-format line source screen units. The system is completed by eight CCS8 medium-format surround loudspeakers and is controlled and powered by three Sentinel3 and a Sentinel10 amplified loudspeaker controllers.
'The system needed to deliver cinema sound and live reinforcement for presentations and classical/jazz concerts equally well,' says Audiolead's Bruno Ghidionesco. 'We set up comparative listening tests for the client and they chose Alcons, thanks to the hi-fi quality that the system delivers in all situations.
'Because it is a new venue the acoustics are excellent but, even after the Alcons system was installed, the client was surprised at the audio quality delivered by the pro-ribbon technology.'
Sciences Po Technical Manager Vincent Watel is satisfied with the result, reporting that everyone who has used the auditorium has been impressed by the coverage, sound quality and lack of distortion. Even at high volume levels, the sound is exceptionally clear and there is no feedback from either gooseneck or musicians' microphones.
'Sciences Po is an example of an installation where it is important to address the technical disparities between the uses of a system,' says Alcons co-founder Tom Back. 'For example' there are differences in the frequencies at which the subs should take over, whether there is any overlap between them and the main array modules and, of course, whether the screen is in use or not. Because we have systems that address the specific needs of both live and cinema sound in our "toolbox", we can offer a dedicated package that does justice to both applications.'
More: www.alconsaudio.com