US-based live event production companies, Soundworks in Richmond and Southard Audio in Mount Crawford, Virginia, are the first to acquire Martin Audio's new Wavefront Precision Longbow (WPL) large-format line array. Both companies, who share a unique cooperative relationship within the Middle Atlantic region, purchased systems that include 24 WPL cabinets, 12 SXH218 hybrid subs and 12 iK42 amps.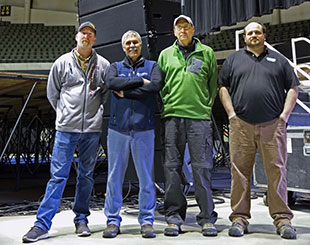 WPL is designed as a complete system with external iKon multichannel amplifiers, automated Display optimisation software and VU-Net control platform that provides financial accessibility to the higher echelons of touring and installed sound. A three-way, bi-amped system, WPL's very high output is achieved using Martin Audio's horn-loading technology across all frequency bands, increasing the acoustic output of the low frequency section as well as the midrange and HF.
'Soundworks and Southard Audio have worked closely together since 1990 and we'd both been using the same model line array system since Mike [Southard] and I decided early on not to compete with, but support one another,' says Soundworks founder and CEO, Steve Payne. 'Not long ago, we reached the point where we needed to upgrade our main line array system and auditioned a lot of different companies including all the major players. As part of the process, I inquired whether Martin Audio made Wavefront Precision with a 12-inch box and they didn't at the time. So we were about to make a final decision on another system when Martin Audio rep Brad Stephens brought us a presentation of the planned WPL 12-inch line array box.'
In the meantime, to establish the Wavefront Precision concept, they were given the smaller WPC on demo. 'Its performance was really impressive,' Payne continues. 'I understood the concept of how Wavefront Precision can provide uniform SPL and coverage throughout the listening area but wasn't sure how musical it would sound in terms of the audio quality. It took about three minutes of listening to convince me that Martin Audio had achieved all those goals and the rig sounded really musical and open with lots of punch – everything you'd want in a line array.
'Best of all, it sounded like that every place you went in the room – from the front to the back row and that's like the Holy Grail. I can't tell you how many times you're mixing sound and it sounds great at front of house and you step off the riser, walk 30ft to the right and it's like, "Oh my God, what happened!". And that was not happening anywhere with WPC.'
'For me, WPL is essentially an MLA system with less processing power,' says Mike Southard. 'As far as SPL output, audio acuity and all of the tangible sonic points of the box, WPL is pretty close to MLA with the only real difference being external amplifiers and a lower resolution even though WPL does have certain features such as Hard Avoid up to a point. Plus MLA has been out there, it's a known quantity and people seem to like it a lot, which made it a lower market risk for us to go with Martin Audio. We went in very confident that we had a known entity even though WPL is a brand-new system.'
Another reason Payne feels confident going forward with WPL for large outdoor events is 'the scalable resolution that provides additional output control both on site and beyond. We're going into it with two-box per amp channel resolution, and we can always add more amp channels to experiment with one box resolution because Wavefront Precision offers so many choices and possibilities.
'The fact that Martin Audio is able to bring this incredible control over the coverage pattern and maintain a musical box is a major one-two punch combination for us. It says a lot that we bought into WPL when we did – about our confidence level in the system.'
The companies' confidence was well rewarded following the first listening session for the WPL system at the Hampton Coliseum in Hampton, Virginia. As Southard reports, 'Overall, WPL exceeded my expectations even though the Coliseum is a very difficult space with lots of slap and echo. We started off by doing a Hard Avoid on the ceiling down to the top rows as a default and the coverage was seamless. We walked the room carefully and the prediction software was very accurate.
'I was also very impressed with the availability of SPL and the headroom,' he concludes. 'I feel confident we could do any type of act in that space with this amount of PA. I was really happy. Everything they told us was going to happen, happened. WPL rigged easily and the software, cabling, and amp settings worked perfectly out of the box.'
Payne is equally unequivocal: 'I also felt very positive about WPL. Even though the venue was basically a large empty reverberant arena, the system sounded really good. The tonal balance and voicing were very much Martin Audio which is what we were looking for. When you pushed the system really hard into the limiters, it really held together with no change in the sound – WPL was rock solid all the way. We're really excited about the choice we've made going forward.'
More: https://martin-audio.com